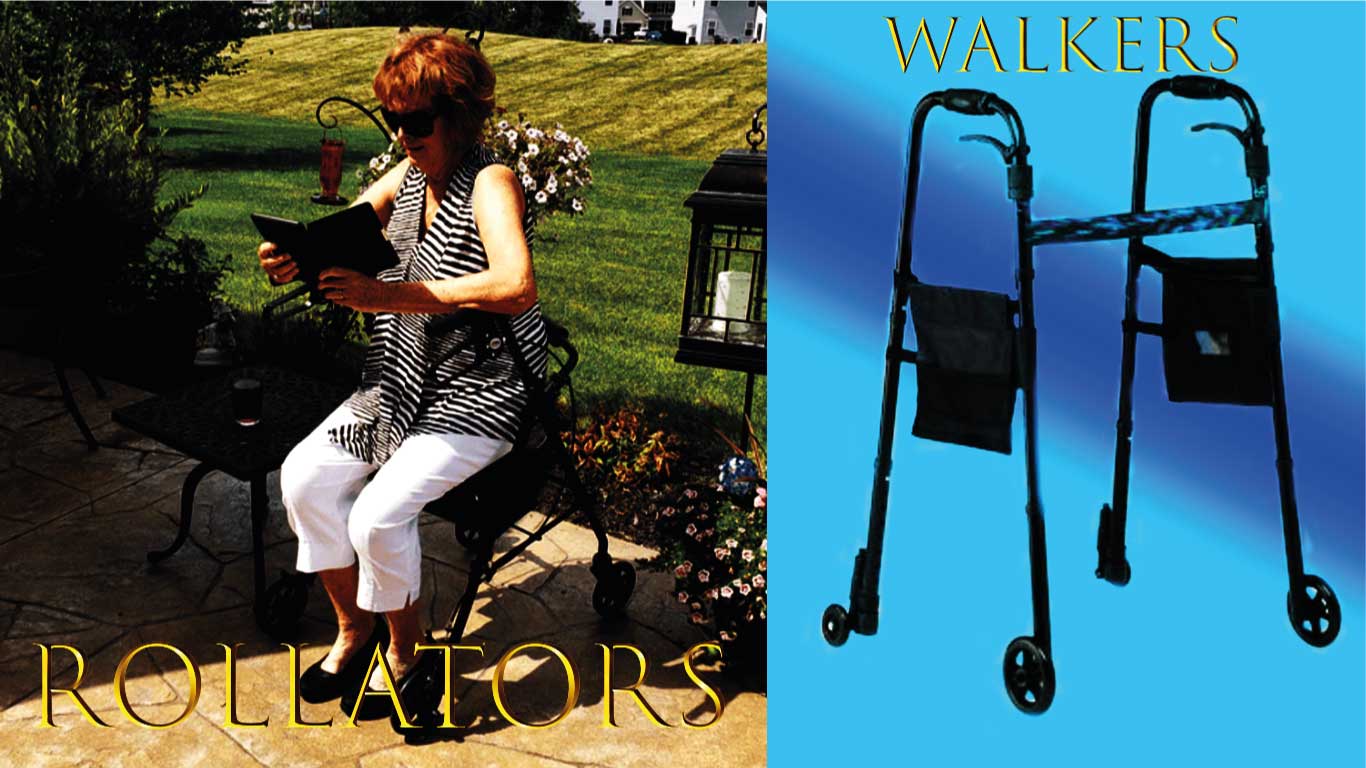 ---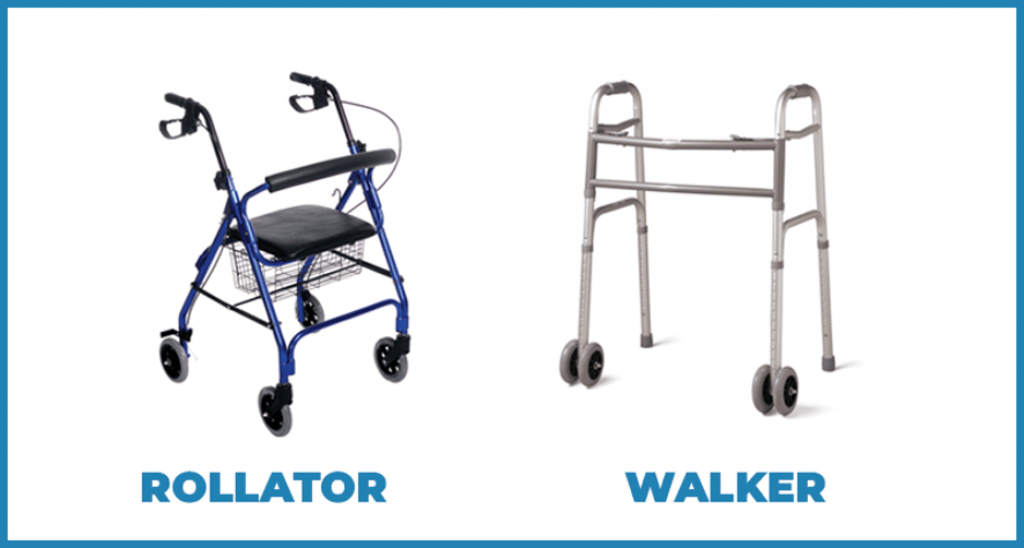 A rollator is sometimes referred to as a rollator walker, which pretty much encapsulates the biggest difference between these two walking aids: a rollator is a rolling walker, or a glorified walker.
Here are the basic differences
Look
Walkers are more plain and "medical-looking" – hence the name medical walker, while rollators are usually more sleek, modern and fashionable.
Seat
Walkers with seats are not very popular, because of their medical look. There are therefore very few walkers on the market that come with a seat. Walkers that do come with seats usually have seats that flip up to allow individuals to step inside the frame to use the walker in the traditional way. Rollators, on the other hand, are always equipped with a seat, unless it's a 3-wheeled rollator. Most rollator seats are padded for increased user comfort.
 
Wheels
Walkers usually have no wheels or two front wheels, while rollators are always equipped with either 3 or 4 wheels. Walkers without wheels need to be lifted and moved forward before each step, while rollators roll forward easily with swivel wheels that make maneuvering easy. Rollators are generally preferred by people with less arm strength, as the wheels eliminate the need to lift – but they do offer less stability than basic walkers do, and are only recommended when the user needs minimal support.
---
Find Out The Features Of Walkers & Rollators
MEDICAL WALKERS
For seniors and patients with low mobility, a medical walker, hemi walker or walker with wheels may be just what they need to hold on to their independence. Whether you're looking for a heavy duty bariatric walker, a pediatric walker or a standard walker, we have what you're looking for.
There are many types of walkers for seniors, adults and children to address any and every need. Wheeled walkers provide less stability than standard walkers and are intended for active, partial weight bearing patients, with added wheels for more mobility. Pediatric walkers are smaller sized and adjustable to accommodate children's growth, while an adult walker provides higher levels of stability and weight bearing capabilities required for adult use.
A heavy duty walker has a higher weight capacity and an extra wide frame to suit the needs of heavier users. A hemi walker, or side walker, is designed for one-sided use for better support than a walking cane provides. Some individuals may benefit from a stand-assist walker, which allow seated users to get up faster and more easily. For a walker that doubles as a portable seat, try a rollator, which is a walker equipped with a seat so you can rest anytime you need to take a break from walking. Keep in mind that rollators offer a lower level of stability, since they are equipped with four wheels that roll easily.
While some patients require non-folding walkers for maximum balance assistance, we also carry a variety of folding walkers for storage and transport convenience. One button folding walkers fold quickly and easily, while a two button walker folds one side at a time to provide more stability for the user. A folding paddle walker is ideal for those with manual dexterity limitations, as they allow the patient to keep hands on the grip while using the paddle to fold the walker.
We also carry a full line of walker accessories to enhance your walker, such as platform attachments, glides, trays, walker baskets, pouches, cup holders and more.
If you need any help making your purchase, call now to speak to one of our professional healthcare providers.
ROLLING WALKERS / ROLLATORS
If you suffer from back problems or other mobility-limiting issues, rollators (sometimes referred to as wheelie walkers) are a great solution, serving as a rolling walker that doubles up as a portable chair so you can sit whenever and wherever you need to. Whether you're looking for a bariatric rollator or a standard rollator, you've come to the right place.
With your rolling walker, you'll feel like a new person as you get your mobility back.
You can choose a rollator equipped with a basket or carry pouch for your convenience. You may also want to look for units that have fully padded seats and backrests for your added comfort. Lightweight rollators, weighing as little as 11 pounds, can be very useful if you plan to transport your rollator on a regular basis, or if you have limited strength and need to be able to load it into your car without help.
Check out rollator accessories for replacement parts, baskets, pouches and lights for your rollator. You can also look out for a frame color that matches your preferences so you can roll in style.
Sizing and Measurements
Some rolling walkers are equipped with adjustable handles so you can adjust the height to the height of the crease in your wrist when your arms are relaxed at your sides. Others also have adjustable legs, so that the seat height can be adjusted to match the height of the crease in the back of your knee.
Be sure to measure any doorways where you plan to use your purchase, especially if you need a bariatric, heavy duty rollator, and compare that measurement with the overall product width.
Another important measurement is the weight capacity of the rollator you are considering. To ensure safe, stable rollator use, choose a weight capacity between 250 to 500 pounds to match your weight or that of your loved one.
If you're unsure about the rollator type that's best for you, and to learn more about how to choose the correct measurements, seats, brakes, accessories and more, be sure to visit our Rollator Guide.
All of our rollators qualify for fast, free shipping, so place your order today – we'll have it shipped to you, free of charge, by tomorrow!
---