Hits: 0
Item#: EH228WCIC
---
Have a question about this product?Ask us
---
Auto Re-Order & Save! More details
---
PRODUCT INFORMATION
WAFFLE Extended Care Cushion
with Cover
1 Each / Each
Brand EHOB
Packaging 1 Each / Each
Weight 1 LB
Shipping Dimensions 20 X 10.5 X 4 Inches
---
WHEELCHAIR CUSHION COVERS / WHEELCHAIR SEAT COVERS
---
AvaCare Medical has some of the best wheelchair covers available today, and you can purchase covers in all shapes and sizes to suit your needs! The many wheelchair seat cover options allow the user to choose the one that works best for his needs.
Why Wheelchair Cushion Covers Are Needed
Wheelchair covers are not merely an accessory or a commodity when it comes to purchasing a wheelchair cushion; they're indeed a necessity. Some users believe that it is merely to protect the cover itself, but wheelchair seat cushion covers are also necessary for protecting the user. Of course, covers can also protect the cushion itself underneath the user.
Cushion covers offer protection for all wheelchair cushions and cushion types, and they are meant to repel moisture, help to decrease the temperature of the cushion material, and eliminate UV exposure and dirt buildup. All of these factors can damage and even ruin wheelchair cushions. It is important for the elements to be deflected so the cushion can do its job to provide protection and stability, maintaining its usefulness long term.
Types of Wheelchair Seat Covers
Wheelchair seat covers are meant to cover different styles and types of wheelchair cushions, but they can also have multiple purposes. Just like the numerous options of wheelchair cushions themselves, there is likewise a large selection of wheelchair cushion covers. Some types of wheelchair pad covers are:
---
YOU MIGHT ALSO LIKE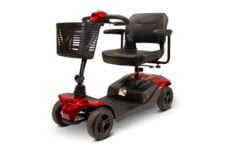 ---

WAFFLE Extended Care Cushion with Cover