Hits: 11
---
EW-M41 Four Wheel Scooter
Item#: EW-M41
Have a question about this product?Ask us
---
Auto Re-Order & Save! More details
---
PRODUCT INFORMATION
The EW-M41 is a lightweight, powerful scooter boasting the most powerful 22AH batteries on the market. Capable of speeds up to 5 mph, an extended travel range of 16 miles. The EW-M41 scooter is great indoors or outdoors, fitted with flat-free tires which enable the scooter to be used on many types of surfaces.
Equipped with an upgraded padded executive seat and rear suspension the EW-M41 provides ultimate comfort. This travel-friendly scooter is easily disassembled in just seconds. The EW-M41 sleek scooter design along with the state of the art built-in LED front light makes this scooter a real head turner!
Four Wheels
Long Range – 16 miles per charge
High Speed – 5 mph
Maximum Speed:5mph
Weight Capacity:350 lbs
Travel Range:16miles
Rear Suspension
22 AH Battery Pak For Longer Travel Range
LED Headlight (Front & Rear)
Easy Take Apart Mechanism
On-Board Battery Charger
Delta Handlebar
Overall Length:44″
Overall Width:23″
Overall Height:37″
Front Wheels:9″
Rear Wheels:9″
Weight w/ Batteries:121 lbs
Ground Clearance:2″
Grade Climbable:8 degree
Turning Radius:55″
Brake:Electromagnetic
Seat Type:Swivel Light Weight Foldable
Seat Width:18″
Motor Size:250 W
Battery Size:(2)12V 22AH
Battery Weight:34lbs
Battery Charger:On Board
Electronics:On/Off Key Switch, Battery Indicator, Speed Control Knob
---
HANDICAP SCOOTERS / DISABILITY SCOOTER & CARTS
Many people across the country require the use of handicap scooters for transportation. Disability scooters are popularly utilized by seniors and individuals with varying levels of disabilities, in public places all over the world, such as retail stores and other settings. AvaCare Medical has some of the most popular motorized handicap scooters for sale from the top US brands in the medical industry.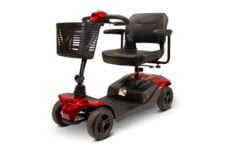 Best value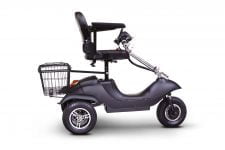 How Handicap Scooters Help
Electric handicap carts (another name for handicap electric scooters) exist to assist elderly and people with handicaps with getting from one location to the next. These scooters can get you around at a safe pace, and allow you to travel without walking canes or medical walkers. Some people are able to move around on foot a little bit, so they don't absolutely need an electric wheelchair. Therefore, a scooter made for a handicapped person is the best choice to aid a user who has trouble standing for long periods or requires help getting from one place to another.
Benefits of Handicap Scooters
There are a lot of benefits provided by an electric scooter for the disabled. There are many different types of these scooters, and depending on the level balance and mobility you require, you can choose between options such as 3-wheel or 4-wheel drive. Some other capabilities of our scooters include:
Foldability
Some models of handicap mobility scooters are able to be folded in order to transport them. When you drive a vehicle, you don't want to constantly lift heavy weights, or repeatedly assemble and reassemble your scooter, especially if you have disabilities. This can cause packing to become an unnecessarily drawn out process. This means that having a foldable motorized scooter for the disabled can even benefit users in terms of time management. An added benefit of foldable scooters is that they are generally extremely lightweight.
Fast Assembly and Disassembly
When looking for a handicapped scooter, a wise idea would be to search for one that can easily be taken apart and put together when needed. This is a point that potential scooter users need to consider; they should determine whether or not any model they view is able to be assembled without the need for special tools or professional assistance.
Bariatric Models
Oftentimes, individuals who are on the heavier side can find it challenging to get from one place to the next. Statistics actually prove that the more weight a person gains, the more likely he is to have issues with mobility. Here at AvaCare, we offer special bariatric scooters for disabled persons in the case that a person with disabilities requires use of bariatric medical equipment. In general, most scooters for handicapped adults have weight capacities ranging from 250 to 325 pounds. However, there are plenty of models we have available that have anywhere from a 350 pound capacity all the way up to 600 pounds if it is needed. This is also helpful when considering the model's anticipated setting for use (for instance, when used after grocery shopping and loaded with packages).
---
---
---

The EW-M41 – A lightweight, powerful scooter boasting the most powerful