The EW-18 Stand-N-Ride is a simplified mobility scoter work-horse


The EW-18 Stand-N-Ride is a simplified mobility scoter work-horse with a smooth ride. Excellent for warehouse applications, school/college campus, shopping complexes, enclosed parking garages, security officers for patrol, or just about any application that you need silent (no emission) transportation
Hits: 13
Item#: EW-18
---
Have a question about this product?Ask us
---
Auto Re-Order & Save! More details
---
PRODUCT INFORMATION
The EW-18 Stand-N-Ride is a simplified mobility scoter work-horse with a smooth ride. Excellent for warehouse applications, school/college campus, shopping complexes, enclosed parking garages, security officers for patrol, or just about any application that you need silent (no emission) transportation
Stand/Ride Scooter with Folding tiller
300 lb Weight Capacity
Top speed of 15 mph
Weight Capacity300 Lbs.
Top Speed15 mph
Estimated Range20 miles
Max Climbing Angle10°
Turning Radius22″
Basket Dimensions:9″x9″x11″
Ground Clearance4.25″
Rear Wheels4″ x 2″
---
MOBILITY SCOOTERS / MEDICAL SCOOTERS / POWER SCOOTER
A medical scooter or power scooter from brand names like Pride, Invacare, Drive, and Medline will allow you to regain your mobility and independence. With an electric mobility scooter, you can control your direction and speed with user-friendly controls.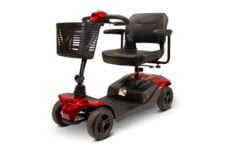 What Is a Mobility Scooter?
The medical scooter is a high quality, multi-featured mobility apparatus, offering even individuals with low mobility the freedom to and independence of getting around without the help of others like a patient in a manual wheelchair. Power scooters are operated with the use of a tiller, and are equipped with swivel seats to make it easy to access and exit the mobility scooter.
Steering and maneuvering a mobility scooter does require some hand and finger coordination to operate the tiller, as well as sufficient seated balance and the mobility required to sit down and stand up independently.
Features and Benefits of Electric Mobile Scooters
Mobility chairs offer not only a ton of options to choose from, but many benefits and features that render battery-operated mobility scooters both unique and helpful.
Portable Options
Some power scooters are able to be assembled and disassembled quickly and easily, allowing convenient stowage into smaller compartments like a trunk or storage space.
Foldability
Some motorized mobility scooters offer the ability to fold up so they can also be placed in smaller places. These are excellent for travelling, making them great for the active elderly population.
Another benefit of medical scooters is that they offer a longer distance range on a single charge, making them the ideal powered mobility aid for extended outdoor trips.
Stylish
If you're looking for a cool mobility scooter, there are options to choose from that also include sporty style finishes as well as those which have 2-seater options, buggy designs and more.
---
---

The EW-18 Stand-N-Ride is a simplified mobility scoter work-horse