Hits: 2
Reclining Wheelchair With Desk-Length Arms, Nylon, 16″ Wide, Each
Item#: KR168N21E
---
Have a question about this product?Ask us
---
Auto Re-Order & Save! More details
---
PRODUCT INFORMATION
Warranty: Yes
Product Type: Reclining Wheelchair
Seat to Floor Height: 19″
Packaging: 1 Each / Each
Warranty:Yes
Product Type:Reclining Wheelchair
Seat to Floor Height:19″
Rear Wheel Size:24.000 IN
MRI Safe:No
Fabric Type:Nylon
Leg Rest Style:Elevating
Seat Depth:18 IN
Material:Nylon
Foldable:Yes
Arm Style:Removable
Overall Width:24.500 IN
Quick Release Axles:No
Caster Size:8.00 IN
Overall Height:40.500 IN
Self Propelling:Yes
Arm Length:Desk Length
Axle Type:Dual
Seat Width:16 IN
Bariatric:No
Weight Capacity Pounds:300.00 LB
Back Height:18.00 IN
Assembly Required:No
Back Position Maximum:180°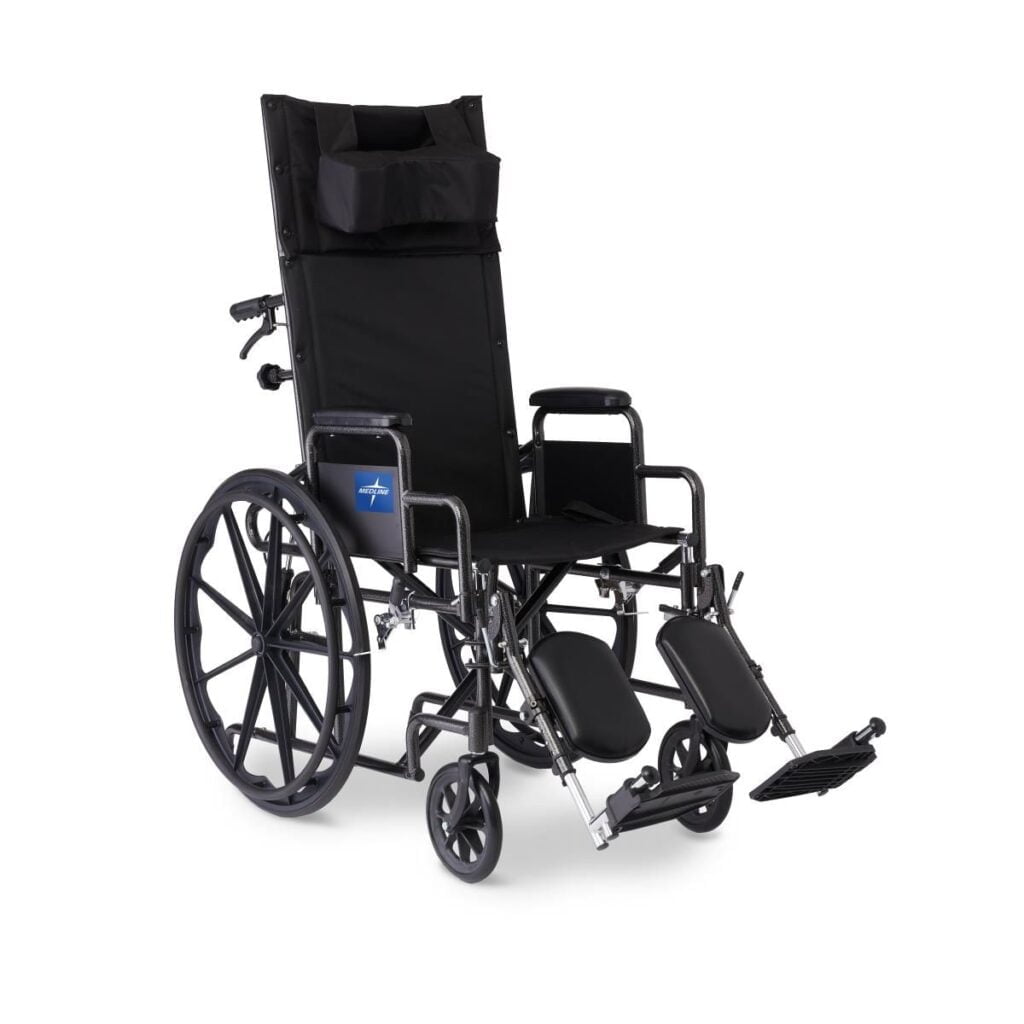 RECLINING WHEELCHAIRS / HIGH-BACK RECLINING WHEELCHAIRS
Reclining wheelchairs are one of the most comfortable wheelchair options for seniors and other individuals with limited mobility. There are many types of manual wheelchairs able to assist the handicapped and elderly, but reclining wheelchairs are unique in the level of comfort they provide users with. Find reclining wheelchairs at AvaCare Medical now
Best price
Reclining Wheelchairs for Post-Surgery and More
Reclining wheelchairs are often utilized by patients who have undergone hip replacement surgery. Further, while traditional wheelchairs can cause skin problems, the reclining feature of these chairs can help to alleviate any such issues. With their multi-positional reclining capability, these chairs ensure user comfort and provide many other benefits in specific conditions and scenarios.
Benefits of a Reclining Wheelchair
As mentioned earlier, high back reclining wheelchairs have the ability to help with skin deterioration. And actually, that was just one of the many benefits to using a reclining wheelchair! Many people are unaware that reclining is not only a naturally comfortable position, but it is also healthy for the body. Here are some health benefits of reclining wheelchairs:
They help relieve stress and aid in relaxation.
They promote circulation.
They relieve back pain.
They alleviate symptoms of chronic musculoskeletal illnesses.
They combat hip pain.
Reclining Wheelchair Vs Tilt Wheelchair
While they are similar, tilt and reclining wheelchairs are technically two different types of wheelchairs. With tilt wheelchairs, the entire seat, back, arms, and foot rests will usually tilt back in tandem in order to position the user into a reclining position.
In contrast, a reclining wheelchair may have a reclining back which adjusts to different levels (some going all the way to a 180 degree, flat-lying position), and some even offer leg-rests and foot-rests that can be lifted to aid in the positioning. However, the wheelchair seat itself does not tilt back in order to achieve the reclining position.
---
---

Reclining Wheelchair – Nylon construction for easy cleaning