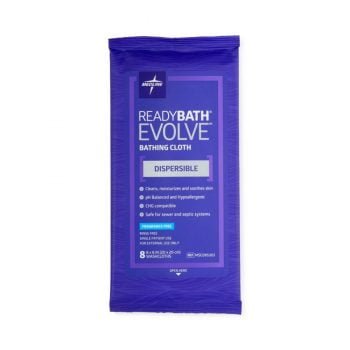 ReadyBath Evolve Bathing Cloths Unscented 8 Count


ReadyBath Evolve cloths are premoistened with a rinse-free, hypoallergenic formulation for an all-over bedside bath Each pack contains eight washcloths that are intended to clean eight different areas of the body Cloths are dispersible and gentle on plumbing if flushed
Hits: 0
Item#: MSC095303
---
---
ReadyBath Evolve cloths are premoistened with a rinse-free, hypoallergenic formulation for an all-over bedside bathEach pack contains eight washcloths that are intended to clean eight different areas of the bodyCloths are dispersible and gentle on plumbing if flushedFragrance free
Antibacterial Type: Non-Antibacterial
Absorbent Material: Needlepunch Cloth
Area of Application: All Over Body
30 Pack / Case
Antibacterial Type: Non-Antibacterial
Absorbent Material: Needlepunch Cloth
Area of Application: All Over Body
Container Type: Soft Pack
Contains Dimethicone: No
Flushable: Yes
Fragrance: No
Material: Rayon/Polyester
Thickness Type: Standard Weight
Wipe Type: Bathing Cloth
---
BODY WIPES / BODY CLEANSING WIPES
---
Full body wipes, also called disposable body washcloths, are a senior-friendly alternative to showering. They can be used by anyone, at any time. Grab a pack of travel body wipes and bring it along with you so you can stay clean and feel your best no matter where you go!
Best price
Many elderly people find showering to be uncomfortable, stressful or even frightening.
This is fully understandable, since according to the CDCP (Center for Disease Control & Prevention), over 75,000 people per year visit emergency rooms because of bathing or showering-related injuries. Slips and falls are quite common in the shower, and therefore, many seniors prefer to stay safe and avoid showering daily.
Being that these seniors still want to stay clean and keep their hygienic health up to par, they use body cleansing towelettes such as personal body wipes.
Benefits of Body Cleansing Wipes
The beauty of body wipes for adults is that they clean the body gently and thoroughly, and yet don't necessitate the user to stand up on a slippery surface and risk getting hurt.
Other benefits of body cleansing wipes are that they remove body odor, and won't leave behind the unpleasant sensation you'll often feel after using baby wipes to clean your body.
There are even scented body wipes, which offer a pleasant fragrance.
No rinse body wash wipes are designed to kill germs and keep your skin moisturized, well-maintained, and odor-free. They allow for gentle, revitalizing cleaning.
These body wet wipes can be utilized anywhere; they can be used following a strenuous workout at the gym in the morning so you feel clean and refreshed, when there's no shower available, or when you're short on time and want to be clean but can't afford to spend time in the shower. 
Body cleansing wipes allow anyone to maintain hygienic health in a safe and efficient manner. If you're interested in saving on water without compromising on cleanliness, body wipes are your answer!
Shop quality, refreshing body wipes at AvaCare Medical now! Whether you'd like scented body wipes, whole body wipes, or anything else, you can find the best body wash towelettes at great prices on our site!
---
---

ReadyBath Evolve Bathing Cloths Unscented 8 Count