Material provides all-day breathable comfort – Surgical Caps
Item#: PF144830   Brand: Medline
Deliver full coverage from the back of your neck to sideburn area with a secure fit, Surgical Caps. Material provides all-day breathable comfort. No elastic band in front means cap won?t leave a mark. Quality, longer-lasting design creates less waste than bouffant caps. One size fits most
Have a question about this product?Ask us
---
Auto Re-Order & Save! More details
---
PRODUCT INFORMATION
Hits: 1
[vc_section css=".vc_custom_1673780923491{background-color: #000000 !important;}"][vc_row css=".vc_custom_1673782653999{background-color: #e8e8e8 !important;}"][vc_column][vc_column_text]Deliver full coverage from the back of your neck to sideburn area with a secure fit with surgical caps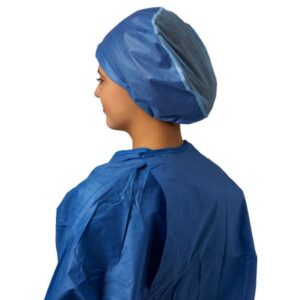 [/vc_column_text][/vc_column][/vc_row][vc_row optreading="true" css=".vc_custom_1673781934925{background-color: #f2f2f2 !important;}"][vc_column][vc_tta_tour style="outline" color="black" active_section="1″ css=".vc_custom_1673781410647{background-color: #dd3333 !important;}"][vc_tta_section i_icon_fontawesome="fas fa-dragon" add_icon="true" title="Quick Overview" tab_id="1673780950341-da8b3b56-e1e0″][vc_column_text]
Premium Sms/Polypropylene Head Cover, Elastic Back And Adjustable Front, Blue, Size Regular, Box of 100
Color: Blue
Closure Type: Elastic Back
Size: One Size Fits Most
Packaging: 100 Each / Box
[/vc_column_text][/vc_tta_section][vc_tta_section i_icon_fontawesome="fas fa-crow" add_icon="true" title="Features" tab_id="1673780950366-ba7ba93e-26b1″][vc_column_text]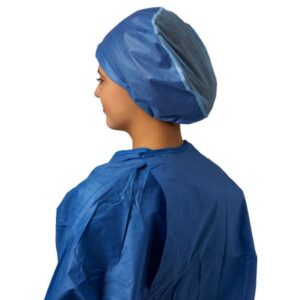 Color: Blue
Closure Type:Elastic  Back
Size:One Size  Fits Most[/vc_column_text][/vc_tta_section][vc_tta_section i_type="typicons" i_icon_typicons="typcn typcn-heart-full-outline" add_icon="true" title="About Protective Apparel" tab_id="1673781563431-5a2f410e-e392″][vc_column_text]
SURGICAL MASKS / SURGICAL CAPS / DISPOSABLE SHOE COVERS – PPE MEDICAL
The need for medical PPE, or personal protective equipment for hospitals, nursing, and other healthcare positions, is self-understood and includes important gear such as surgical masks, surgical caps, disposable shoe covers, medical goggles, and more.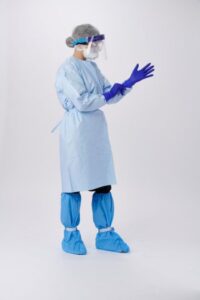 These apparel items, in addition to standard gloves and gowns, are an important measure of defense against the transmission of viruses, bacteria, and other contaminating fluids healthcare professionals are exposed to throughout the day.
Why do we use PPE in healthcare?
Personal protective equipment in healthcare is clothing or gear worn by healthcare providers to protect themselves and their patients from germs by creating a physical barrier between the person and any potential infections. Most medical and healthcare facilities, such as doctors' and dentists' offices, as well as hospitals and lab, utilize medical PPE for protection. While the primary function of PPE is to protect the professional, properly worn PPE can also help protect patients from healthcare-associated infection (HAI).
Guide to PPE in Healthcare
This category offers wearable products designed to protect professionals from infection, also known as PPE. Personal protective equipment affords medical professionals five main forms of protection, as shown in the chart below.
| PPE PROTECTION AREA | APPROPRIATE MEDICAL PPE PRODUCTS |
| --- | --- |
|  Respiratory |  Surgical masks, full face shields |
|  Optical |  Surgical glasses, full face shields |
|  Body |  AAMI surgical gowns, disposable scrubs |
|  Hands |  Medical gloves, sanitizing creams |
|  Feet |  Disposable shoe covers, operating room shoes |
In addition to the products mentioned above, another important element of PPE is keeping hair – and the multitude of bacteria in it – safely covered during medical procedures. For this purpose, many medical professionals use surgical caps to stay hygienic and safe.
Let's take a better look at each of these protective items to see how they keep people safe in hospitals and clinics the world over. Learn more[/vc_column_text][/vc_tta_section][/vc_tta_tour][vc_separator color="black"][vc_column_text]
RELATED ITEMS
[/vc_column_text]
[vc_separator color="black"][vc_column_text]
YOU MAY ALSO LIKE
[/vc_column_text][vc_separator color="black"][vc_column_text]
[/vc_column_text][vc_separator color="black" border_width="3"][/vc_column][/vc_row][/vc_section]
Material provides all-day breathable comfort – Surgical Caps