Soft-Span knitted sheets-4-way stretch, stronger elasticity to better
Have a question about this product?Ask us
---
Auto Re-Order & Save! More details
---
PRODUCT INFORMATION
Item#: MDTRNC5L19DZ Brand: Medline
Strength of the spandex fibers gives this product exceptional durability and greatly reduced pinholing
55% combed cotton/41% polyester/4% spandex
Reusable sheets will fit mattresses up to 42″ wide and 88″ long
Hits: 1
[vc_section css=".vc_custom_1673587180024{background-color: #000000 !important;}"][vc_row css=".vc_custom_1673587200312{background-color: #aed8e5 !important;}"][vc_column][vc_column_text]Soft-Span knitted sheets with 4-way stretch feature stronger elasticity to better fit most sizes of healthcare mattresses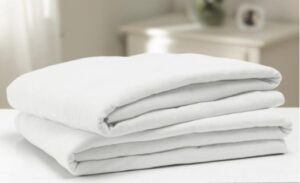 [/vc_column_text][vc_tta_tabs style="outline" color="black" active_section="1″][vc_tta_section title="Description" tab_id="1673587635601-eb05754a-977a"][vc_column_text]
Soft-Span knitted sheets with 4-way stretch feature stronger elasticity to better fit most sizes of healthcare mattresses
Excellent memory retention allows the sheets to cling to the mattress
Strength of the spandex fibers gives this product exceptional durability and greatly reduced pinholing
55% combed cotton/41% polyester/4% spandex
Reusable sheets will fit mattresses up to 42″ wide and 88″ long
[/vc_column_text][/vc_tta_section][vc_tta_section title="Quick Overview" tab_id="1673587635641-eb5f88fe-e3dc"][vc_column_text]
Contour Sheet
19 oz.
12 Each / Dozen
[/vc_column_text][/vc_tta_section][vc_tta_section title="Features" tab_id="1673587742939-9c6c2c71-5041″][vc_column_text]Stain Control Fabric: No
Fabric Weight: 19 ounce each
Width Inches: 36.0000 IN
Reusable or  Disposable:Reusable
Color: White
Depth Inches: 14.000 IN
Antimicrobial: No
Length Inches: 88.00000 IN
Hem Thread Color: Red
Woven or Knit fabric: Knit
Fiber Content: 55% Cotton/41% Polyester/4% Sp[/vc_column_text][/vc_tta_section][/vc_tta_tabs][vc_separator color="black"][vc_column_text]
HOSPITAL SHEETS / HOSPITAL BED LINEN
Whether you're looking for reusable or disposable pillows and linen, we have what you need to outfit your facility rooms or bedroom. For hospital beds, we carry hospital pillows, and hospital linen, including hospital bed sheets, bedspreads, drawsheets, and everything in between.[/vc_column_text]
[vc_column_text]We have a large selection of pillows, shaped to suit your needs. Some pillows are designed to improve breathing while sleeping, while others are built to support the patient and provide better comfort for a good night's rest. Check out all of our sleeping pillows, memory foam pillows and neck pillows, as well as our line of therapeutic pillows.
Other options available include waterproof and hospital bed sized bedding and pillows. We also provide a full selection of repositioning sheets, mattress covers and stretcher sheets.
If you need help finding the products that are right for you, remember, we're just a call away at 1-877-813-7799.
[/vc_column_text][vc_separator color="black"][/vc_column][/vc_row][/vc_section]