Best price
Clinton Adventure Series Pediatric Treatment Table
It features Clinton original themes graphics which are permanently embedded in the high-pressure laminate and will not peel off. It has easy to clean laminate surfaces which are scratch and mar resistant and includes chip resistant PVC edges. This Pediatric Treatment Table has premium, stain-resistant, woven, knit-backed vinyl upholstery in Gunmetal.
Hits: 9
Clinton Adventure Series Pediatric Treatment Table offers vivid photo collages to engage school-aged children
ORDERING DETAILS
Model

Optional Accessories

Graphic Themes

Delivery Option (Customer is responsible for bringing items inside when delivered. Please inspect before signing for delivery)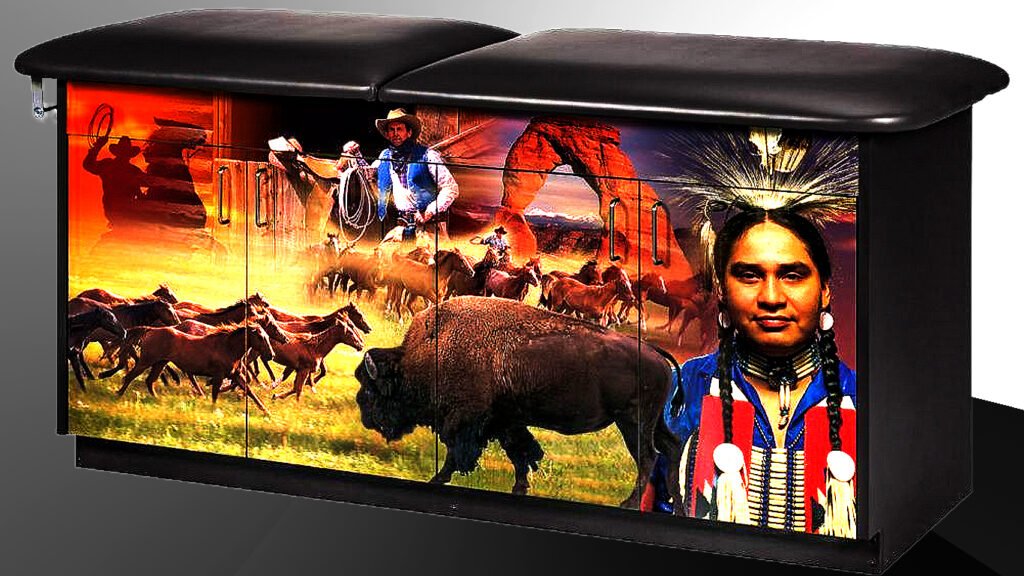 Features
Clinton Adventure Series Pediatric Treatment Table has soft-close, Euro style door hinges
2″ of firm foam padding
4 door storage with 2 adjustable shelves
Graphics are on one long side with slate gray ends and back
Top features seamless rounded outside corners
Available with or without backrest
Paper dispenser included
Length: 68″ (172.72 cm)
Width: 27″ (68.58 cm)
Height: 33″ (83.82 cm)
More Information
Cleaning:
– Clinton uses only premium vinyl for upholstery, however, care should be taken when cleaning to ensure that the upholstery or color is not affected by the cleaning agent
– Use only mild cleaning agents on upholstery
– Clinton recommends using a 1 to 1 mix of ammonia and water or a 1 to 4 mix of bleach and water
– Rinse thoroughly with clean water and pat surface dry
Note:
– This is not a guarantee and does not relieve the user from the responsibility of the proper and safe use of all cleaning agents. Test on an inconspicuous area prior to using any cleaning agent on upholstery visible surface. Certain cleaning agents can be harmful to the surface
– Please review the warnings on the label of any cleaning agent to ensure it is compatible for use on vinyl upholstery prior to use.
Warranty
5 Year Limited Warranty
---