With a nonslip surface for secure footing-Momentum Bath Mat
Item#: MDSMOMMATG  Brand: Medline
Momentum Bath Mat, Grey, 29.5″ X 16.8″, Case of 2
Have a question about this product?Ask us
---
Auto Re-Order & Save! More details
---
PRODUCT INFORMATION
Hits: 1
[vc_section css=".vc_custom_1674632700829{background-color: #000000 !important;}"][vc_row css=".vc_custom_1674632709580{background-color: #f4f4f4 !important;}"][vc_column][vc_column_text]Product Type: Bath Mat. Color: Gray. Packaging: 2 Each / Case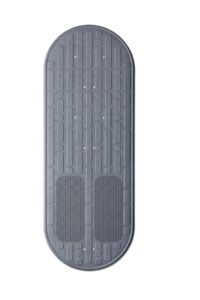 [/vc_column_text][vc_separator color="black"][vc_tta_tabs style="modern" color="black" active_section="1″][vc_tta_section title="Details" tab_id="1674632865596-411d3bc0-0c49″][vc_column_text]
Momentum bath mat with Microban* antimicrobial protection to help prevent stains and odors caused by bacteria, mold, and mildew
Made of soft rubber with a nonslip surface for secure footing, plus textured scrub areas to help massage feet and exfoliate skin
Over 300 suction cups secure mat to tub or shower floor; sized to better fit most showers and baths
Comes in retail packaging
[/vc_column_text][/vc_tta_section][vc_tta_section title="Notes" tab_id="1674632865621-ded1b1aa-608a"][vc_column_text]*These antimicrobial properties are built in to protect the product. The product does not protect users or others against bacteria, viruses, germs or other disease-causing organisms.[/vc_column_text][/vc_tta_section][/vc_tta_tabs][vc_separator color="black"][vc_column_text]
HANDICAP BATHROOM ACCESSORIES
Improve the safety and convenience of your bathroom with our selection of handicap bathroom accessories.
We offer great bath and shower accessories for the elderly such as non slip bath mats, which can help reduce the risk of falls in the tub, a common concern for many. You can also find other accessories such as a toilet stool, bath step and more in the selection below.[/vc_column_text]
[vc_column_text]
BATHROOM SAFETY EQUIPMENT / BATH AIDS
Maximize bathroom safety and customize your bathroom to suit your needs with bath aids such as a commode, grab bars or a shower for elderly or disabled individuals. For increased toilet and bath safety as well as improved comfort, you may want to install a raised toilet seat and a handheld shower head. Other important bathroom safety equipment to consider include a transfer bench and bath lift.
At AvaCare Medical, we carry all the bathroom assistive devices and safety products you need to keep elderly and disabled individuals safe and secure while using the bathroom.[/vc_column_text]
Why Choose Bathroom Safety Products?
Seniors and handicapped individuals are at an extremely high risk of falling. Studies show that many senior deaths around the world are caused by slips, trips and falls. To avoid this, AvaCare Medical believes that showers should be safe for seniors and disabled people, because every single user should have the best options in terms of security and safety.
Some seniors like the idea of having a little bit of privacy as well as independence, and by choosing AvaCare Medical's products, you can actually have the best of both worlds, without compromising on either. Some of our products can actually help to increase mobility while in the shower or bathtub as well.
Shower Chairs
A shower seat allows you or your loved one to sit comfortably in the shower. Some shower seats provide back support and are equipped with handles to make it easier to get up. A rotating shower stool can be helpful for those who need the freedom of movement this product offers.
Commodes
Preserve your dignity with a bedside commode when it's difficult to reach the bathroom in time. For quick and easy clean-up and waste disposal, add a commode liner.
Choose a padded commode for enhanced comfort, a commode with drop arms for more security while getting on and off the commode, or a shower commode, which can be used in the shower. There are also several other types of commodes; check out our commode category for more details.
Raised Toilet Seats
Knee, muscle and joint problems can make it difficult or even painful to sit down on a typical toilet seat. A raised toilet seat can alleviate the pain as well as the inconvenience of the longer distance by ensuring that the knees are below the hips when seated. Read more[/vc_column_text][vc_separator color="black" border_width="2″][/vc_column][/vc_row][/vc_section]
1 review for
With a nonslip surface for secure footing-Momentum Bath Mat

With a nonslip surface for secure footing-Momentum Bath Mat