Low Hospital Bed
A low bed for the elderly is an ideal choice for anyone in need of a lower frame than the standard hospital bed offers. The typical hospital bed is about 35 inches from the floor to the top of the mattress. This may cause problems for those who suffer from knee or hip issues, as well as shorter individuals. Therefore, it's important that these people can find a low hospital bed that meets the same needs and provides the same benefits as a full-sized bed. At AvaCare Medical, our line of lower bed frames for the elderly includes some from the top-rated DME manufacturers in the US!
Showing all 3 results
Best seller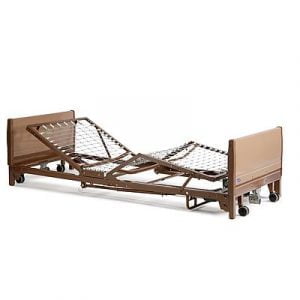 How to Choose the Right Low Hospital Bed
Finding a low hospital bed is crucial for those who are prone to falls. Such a bed mitigates the risks associated with a standard hospital bed. This risk is often influenced by age, medication, and many more factors. By lowering the distance between the floor and the top of the bed, one can reduce the amount of impact or injury that may occur due to a fall.
Having a hospital bed that is low to the floor can also improve the user's level of balance while getting in and out of bed. Actually, due to the rising debate on side rails for beds, ultra-low hospital beds are becoming more popular these days.