Hits: 4
Item#: FIT700A
---
Have a question about this product?Ask us
---
Auto Re-Order & Save! More details
---
PRODUCT INFORMATION
Features include body-contoured design, SensiSoft fabric and soft antileak guards
Linear embossing technology distributes fluid throughout the core for exceptional dryness and containment
The acquisition and dryness layer wicks moisture away from patient's skin and into the core for ideal dryness and leakage protection
Size printed on back sheet identifies product size to help you and your patients find the right fit
Max Size Range: 80.00
Min Size Range: 68.00
Size: 2X-Large
Packaging: 80 Each / Case
 Incontinence Buying Guide »
 Underpads Buying Guide »
Max Size Range:80.00
Min Size Range:68.00
Size:2X-Large
Absorbency Level:7 – Heavy
Anti-Leak Guard:Yes
Bag Appearance:Retail
Packaging:Bags of 20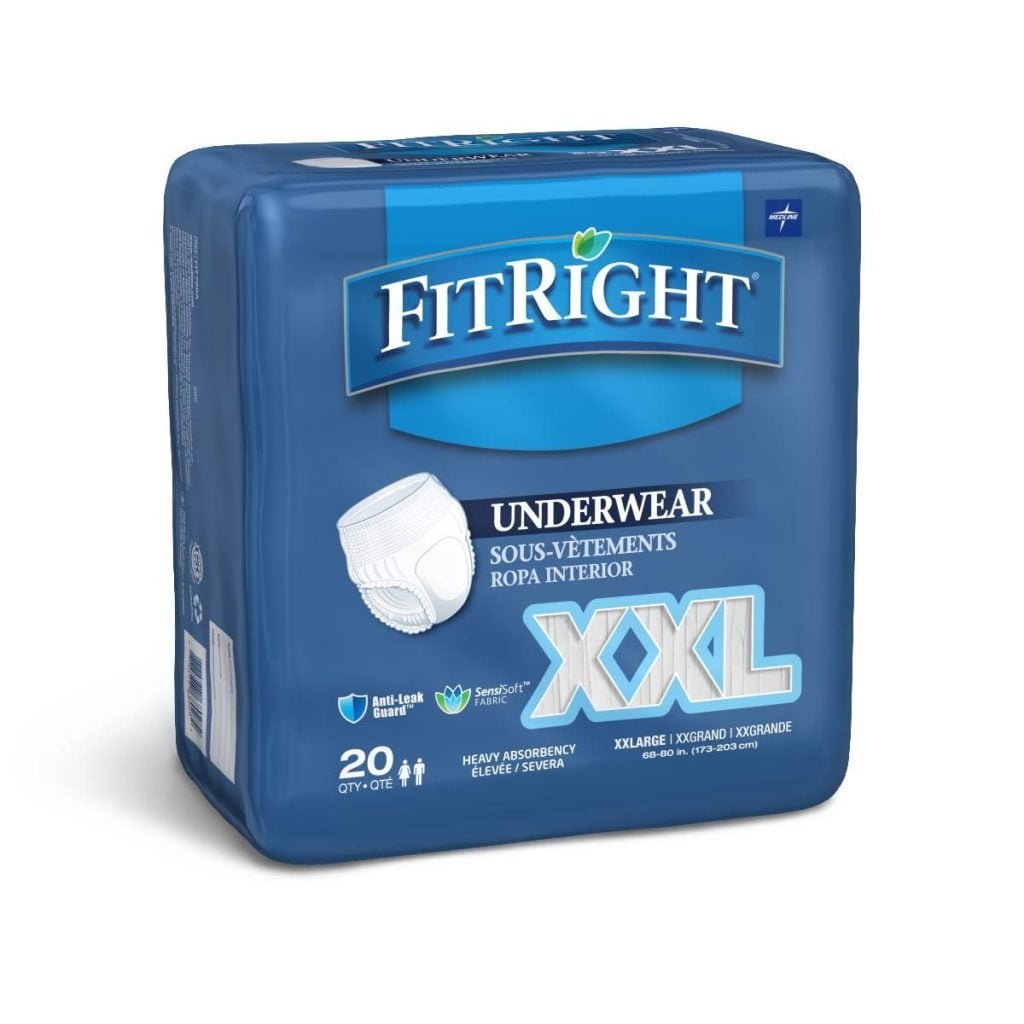 ---
PLUS SIZE INCONTINENCE UNDERWEAR / LARGEST SIZE PULL-UPS
If you're looking for the largest size pull-ups, bariatric or plus size incontinence underwear is probably what you need. These are extra-large pull-ups for adults with incontinence. Unlike adult diapers, which are used mostly by disabled patients, bariatric pull-ups are designed for self-use by those with typical or moderately deficient mobility skills
What Does Bariatric Mean?
The word bariatric comes from the Greek word "baros," which means weight. Examples of other words with the same root (baros) include baroscope; which is an instrument that shows changes in air pressure, and barometer; an instrument that measures air pressure.
Bariatric is the medical term for the treatment of obesity, and is also used in context with any term related to being overweight. Bariatric products are items that are specially crafted for those with obesity; for example, bariatric disposable underwear.
Bariatric underwear are pull ups that are larger than the standard extra large pull ups for adults. These are typically worn by those with incontinence who weigh 300 pounds or more.
People who have a BMI of 40 or above (extreme obesity) are about four times as likely than the average person to have incontinence. This is likely due to increased intra-abdominal pressure (extra weight in the stomach area). The intra-abdominal pressure can put stress on the pelvic floor muscles, and this is often the reason for incontinence in people of heavier weight.
Those with obesity often develop a condition known as Panniculus. Panniculus is when skin folds develop as a result of excess subcutaneous fat in the lower abdominal region.
If you or your loved one has Panniculus, in order to prevent this area from harboring excess moisture which can lead to a build-up of fungi or bacteria, it is very important to ensure that the bariatric incontinence underwear you choose have significant breathability overall, or feature stretchy side panels which promote airflow. The breathability will prevent heat build-up, and thus reduce moisture in the area. Read more
---

FitRight 2XL Size Protective Underwear,2X-Large , Case