Pill Crusher-Extremely quiet and works with very little effort


Extremely quiet and works with very little effort on the operator's part The pill crusher pouches safely contain pills during the pill crusher process to help eliminate cross-contamination Lifetime warranty Includes 50 pouches (additional pouches available, see item NONPC1000)
Hits: 0
Item#: NONSK0500 Brand: Medline, Silent Knight
---
---
---
Product Information
How to use Silent Knight Pill Crusher?
| | | |
| --- | --- | --- |
| | | Step 1. Place pill(s) into Silent Knight Pill Crusher Pouch. Lift handle and place pouch down between the crusher plates to initiate crushing. |
| | | Step 2. Press handle down to crush pill(s). Lift handle and pull pouch upward to half way up the crusher plates. |
| | | Step 3. Then press the handle down to activate grinding movement. Press handle down several times to grind pill(s) into fine powder. Repeat if needed. Then remove the pouch and add the medication to an appropriate serving medium for administration. |
Extremely quiet and works with very little effort on the operator's part
The pill crusher pouches safely contain pills during the pill crusher process to help eliminate cross-contamination
Lifetime warranty
Includes 50 pouches (additional pouches available, see item NONPC1000)
Extremely quiet
Effortless crushing
Ideal for arthritis
50 pouches included
Brand: Silent Knight
Product Type: Pill Crusher
Quantity: 1 Each / Each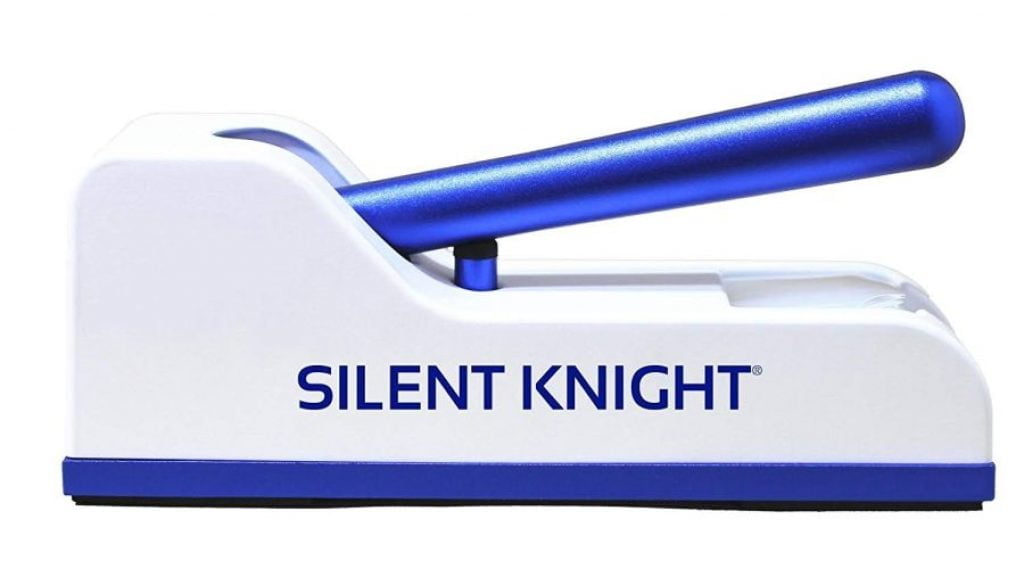 ---
PILL BOXES, PILL ORGANIZERS, PILL CRUSHERS / PILL CUTTER
---
Prevent dangerous skipped doses, overdoses, and meds-confusion with medication aids that allow you to mind your meds easily, such as a pill box or pill organizer, as well as a pill cutter or pill crusher. You can also find a full selection of pill reminders, medicine cups, and other handy medication aids.
Medication Aids
Taking your meds in an accurate and timely manner is imperative for your health and safety. With our line of medication aids, we make it simple to take the correct dose at the right time – every time.
Pill Box
A multi-compartment compliance aid for storing planned doses of pharmaceuticals is a pill organizer, pill container, pill case, or pill box.
Pill organizers typically include square-shaped compartments for each day of the week. Still, various more compact and inconspicuous variants, such as cylindrical and pen-shaped cases, have recently been released.
Patients of all ages, including the elderly, those with memory problems, and those on several medications, can benefit from pill organizers to help them remember to take their pills in the appropriate dosages as prescribed by their doctor.
Choose a pill organizer to suit your dosage schedule. If you take medications at different times throughout the day, a pill case with the standard seven compartments may not be enough. Advanced pill boxes have three or more compartments per day for the morning, noon, evening, or night doses.
Some medicine organizers come with an alarm to help you remember to take your medication on time.
We also carry medication aids such as pill dispensers, travel pill containers, medicine cups, and more.
---
You might also like
Best price
-16%
Mountainside Medical Equipment.
Gelsyn-3 is a Sodium Hyaluronate Injection Syringe used to reduce knee pain due to osteoarthritis. This highly advanced product features non-animal sourced sodium hyaluronate with a high molecular weight that can absorb more than45 times it weight in water.
Professional Supplement Center
Take on an empty stomach. Adults and children 6 years of age and older: Take 1 tube contents to be dissolved in the mouth, every 6 hours, up to 3 times per day. Children under 6 years of age: Consult a physician.
Professional Supplement Center
This formula is especially helpful for those with genetic weaknesses in A01C (Diamine Oxidase), the main enzyme responsible for the degradation of ingested histamine. The active ingredient in G.I. Hist Support is porcine-derived diamine oxidase, and research suggests that DAO derived from porcine kidney appears to have identical action to DAO derived from porcine intestine. Common symptoms of histamine intolerance include:
Best price
-40%
Mountainside Medical Equipment.
BD PosiFlush SF is used to clean out an intravenous (IV) catheter, which helps prevent blockage and removes any medicine left in the catheter area after you have received an IV infusion.
Best seller
Professional Supplement Center
This low-glycemic, high protein snack bar makes a convenient option whether you're at home, at work or on-the-go! Packed with nutrients to support your health, it features organic plant-based protein for muscle support and workout recovery, organic Svetol green coffee bean extract for fat-burning metabolism, organic prebiotic fiber to feel full longer, and organic Ashwagandha to curb cravings. Try it for yourself today!
Best price
-21%
Mountainside Medical Equipment.
Exel Safelet IV Catheter Needles (50 box) are sterile and non-pyrogenic catheter needles used for intravenous therapy use. These needles boast a functional design and sharp needle for ease of use and quickly deliver medications directly into the bloodstream.
Best price
-30%
Mountainside Medical Equipment.
Zydus Betamethasone Dipropionate Cream 0.5% is a topical corticosteroid that is used to treat inflammation and itching caused by a variety of skin conditions, such as eczema, psoriasis, and dermatitis. It works by reducing the activity of the body's immune system, which helps to decrease inflammation and itching.
Best price
-18%
Mountainside Medical Equipment.
Sodium Chloride IV Bags are used to provide intravenous fluids and electrolytes to the body. A stable isotonic solution, Sodium Chloride IV Bags can help replace lost fluids, adjust sodium and chloride levels, and provide essential nutrients for healthy functioning. Sodium Chloride IV Bags are commonly used in hospitals, medical centers, and clinics.
-44%
Mountainside Medical Equipment.
The suspension should be thoroughly mixed before administering the active ingredients, which include Amoxicillin trihydrate as the active ingredient and 1.12 mg of clavulanic acid as the inactive ingredient.
Best price
-21%
Professional Supplement Center
It works by relaxing the muscles in the airways, thereby opening them up and making it easier to breathe. Albuterol sulfate inhalation aerosol HFA 90 mcg inhaler 200 metered inhalations is a safe and effective treatment for respiratory illnesses.
Best seller
Professional Supplement Center
Made with organic vegetables, fruits and our comprehensive blend of targeted SuperPure® herbal extracts – Vita•Min•Herb® for Women is so much more than a women's multivitamin.
Professional Supplement Center
It offers a concentrated serving of three types of collagen (types I, II and III) from four food sources, working together to support your gut, skin and joint health.
---

Pill Crusher-Extremely quiet and works with very little effort