Offers a more effective way of getting inhaled mist into the system

Original valved holding chamber has evolved into the AeroChamber Plus Z STAT aVHC to optimally interface with improved MDI aerosol formulations and activities Offers a more effective way of getting the inhaled mist into the system Provides consistent and high performance aerosol drug delivery
Hits: 10
Monaghan AeroChamber Plus Z STAT Anti-Static Valved Holding Chamber improves the delivery of medications from Metered-Dose Inhaler (MDI) canisters. It reduces the coordination required between canister activation and inhalation, thereby making it easier for the patients to use the MDI correctly.
---
CONTENT:
Monaghan AeroChamber Plus Z STAT Anti-Static Valved Holding Chamber
Brand/Manufacturer: MONAGHAN MEDICAL
Product Info:
Why Choose AeroChamber Plus Z STAT aVHC?
Reduces drug deposition to the mouth and throat
Eliminates unpleasant taste of medication or hoarseness
Assures consistent dose of medication
Suitable for adults and young adults
Reusable and can be used for 12 months
Single patient use
Anti-Static Valved Holding Chamber With Flowsignal Whistle Overview
Features
Original valved holding chamber has evolved into the AeroChamber Plus Z STAT aVHC to optimally interface with improved MDI aerosol formulations and activities
Offers a more effective way of getting the inhaled mist into the system
Provides consistent and high performance aerosol drug delivery
Combines patient-centric design that assures consistent dose of medication substantially equivalent to the MDI dose
Designed to respond to shallow and low volume breathing patterns
Very useful for people with asthma as it ensures that one get more of the inhaled asthma medicine to lungs for relief during an asthma attack
Not made with BPA, Natural Rubber Latex, Phthalates, Lead or PVC
Anti-static, can be used directly out of package
Easy to clean – dishwasher safe
Present in different aerochamber sizes
Design Features of Monaghan Inhaler Spacer:
Clear chamber for easy visualization of proper activation of the MDI
Aerodynamic chamber design with innovative valve system separates and filters out coarse aerosol particles
Proprietary valve baffle design increases aerosol suspension time to assist dose assurance of MDI medication
One-way valve prevents patients from exhaling into the chamber so that the remaining medication is available for the next breath
Delivers 22% more medication than the original AeroChamber
Universal MDI adapter is compatible with all commonly prescribed MDIs
Durable holding chamber is made of a unique, flexible and shatterproof plastic
Optional ComfortSeal Mask, made of medical grade silicone, has a snug fit with secure seal, limiting entrainment of ambient air and maximizing drug delivery even at low inspiratory flows
Optional FlowSignal whistle alerts the patient to excessive flow rates
How does AeroChamber Z STAT Inhaler work?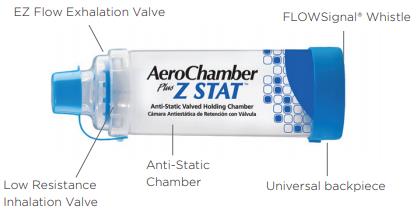 AeroChamber is a spacer device that makes it easier to get more medication from an inhaler into the lungs. It can be used all the time, or if asthma is playing up a bit. AeroChamber inhaler maximizes delivery of medication to the lungs by separating the small medication particles from large. As the patient inhales, the smaller particles float out of the one-way valve of the chamber into the respiratory tract where they easily reach areas of the lungs that need it most. The Monaghan inhaler spacer holds any remaining small particles not inhaled the first time, which allows the patient to take more than one breath per puff of medicine administered. This is especially helpful to those who cannot achieve a high peak expiratory flow (PEF), and assures the maximum amount of prescribed medicine gets into the lungs for optimum benefit.
EZ Flow Exhalation Valve: Minimizes re-breathing and directs exhaled flow away from the face of the patient.
Anti-Static Chamber: Anti-static polymer chamber minimizes static charge which maximizes performance with pMDI formulations.
Low Resistance Inhalation Valve: Lower resistance valve requires less effort to open by low flow patients.
Universal Backpiece: Fits all commonly prescribed Metered Dose Inhalers.
FlowSignal Whistle: Optional FlowSignal whistle alerts patients to breathe slowly.
How to use Aerochamber Plus Z Stat aVHC?
Carefully examine Aerochamber Plus Z STAT Anti-Static Valved Holding Chamber for damage, missing parts or foreign objects.
Shake the MDI immediately before each use.
Insert the MDI into the backpiece of the chamber.
Apply mask to face or put mouthpiece into the mouth and ensure there is an effective mask/face seal.
While maintaining an effective mask/face seal, the patient should exhale through the mask.
Depress inhaler (MDI) at the beginning of slow deep inhalation.
Maintain the effective mask/face seal and ensure an additional 5-6 breaths are taken through the chamber before administering another puff of medication.
If using the model with Flow signal whistle and hear a whistle sound then slow down inhalation.
Wait 30 seconds before repeating steps 4 to 8 as prescribed.
How to Clean the Aerochamber Inhaler?
Hold the rubber end and twist the chamber to remove the back piece.
Soak both parts for 15 minutes in luke warm water with liquid detergent. Agitate gently.
Rinse parts in clean water. Shake out excess water.
User may also clean the chamber on the top rack of dishwasher. Secure it so that it is in a vertical position. It is not recommended to boil the chamber.
If concerned about potential for contact dermatitis, rinse facemask or mouthpiece in water.
Do not rub dry. Let air dry in vertical position.
Replace back piece when unit is completely dry and ready for use
Cautions:
Read all instructions before use.
Aerochamber inhaler should be replaced if valves are damaged or missing.
Do not leave the product unattended with children.
If unsure on how to use this product, talk to physician, pharmacist or health care provider. This is a medical device, not a toy.
Do not disassemble the product beyond what is recommended for cleaning, or damage may result.

Customer Review
YOU MAY ALSO LIKE
---
---

Offers a more effective way of getting inhaled mist into the system