Hits: 1
Item#: 68141310
---
---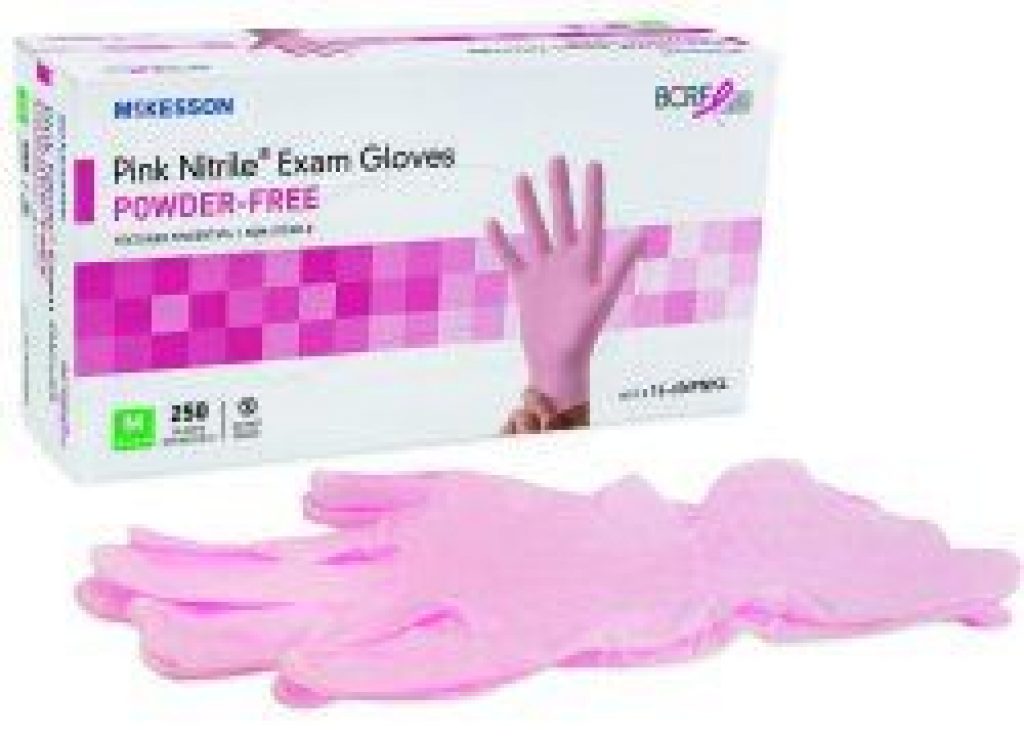 McKesson Pink Nitrile® Exam Glove
Nonsterile
Ambidextrous
Textured fingertips provide excellent tactile sensitivity and dexterity
Improved conformability provides superior fit and extended wear comfort
Single use only
Not made with natural rubber latex
250 per box
Sell UOM: CS
Manufacturer Name: McKesson Brand
Manufacturer Number: 14-6NPNK2
Application: Exam Glove
Brand or Series: McKesson Pink Nitrile®
Width: 10.75
Height: 10
Depth: 17
Dimension UOM: IC
Weight: 22.7
Weight UOM: LB
Chemo Rated: Not Chemo Approved
Color: Pink
Cuff Style: Beaded Cuff
Fingertip Thickness: 0.08 mm (3.15 mil)
Glove Exterior: Textured Fingertips
Hand Compatibility: Ambidextrous
Latex Free Indicator:n Not Made with Natural Rubber Latex
Material: Nitrile
Powder Content: Powder Free
Quantity Per Sell: 2500
Size: Small
Sterility: NonSterile
Usage: Single Use
Glove Interior: Without Coating
Length In Inches: 9 Inch
---
MEDICAL GLOVES / EXAMINATION GLOVES / DOCTOR GLOVES
---
Medical gloves, also known as examination gloves, are top quality gloves which offer ideal protection and prevent the spread of germs and bacteria in healthcare facilities. Exam gloves undergo rigorous testing to ensure that they meet the medical-grade glove standards set forth by the FDA.
Each batch of medical gloves undergoes a testing process to ensure that they are high quality and effectively fulfill their purpose of providing adequate protection. The FDA sets an "acceptable quality limit" of up to how many gloves can fail the test. If too many gloves in a batch fail FDA testing, the entire batch is disqualified and does not receive medical grade certification.
This means that gloves labeled as medical grade are the highest possible quality and are the ultimate glove choice for healthcare professionals and others dealing with bodily fluids or hazardous drugs. They've been tested for leak resistance, tear resistance, and biocompatibility, and have been cleared for usage in the medical industry.
Who Wears Disposable Medical Gloves?
Workers in industries where cross-contamination is possible, who are using gloves that will come in direct contact with patients or clients, are often required to wear examination gloves.
Caregivers, beauticians, nurses, and tattooists all need to wear exam gloves, to protect themselves and the ones they are servicing. Often, professionals refer to their gloves as dental gloves, lab gloves or doctor gloves; depending on their own roles, but they're really all the same disposable medical gloves. 
---
You might also need
Best value

Best seller

Best price

---

Nitrile Exam Glove – Improved conformability provides superior fit