Hits: 2
Item#: PHT165532
---
---
---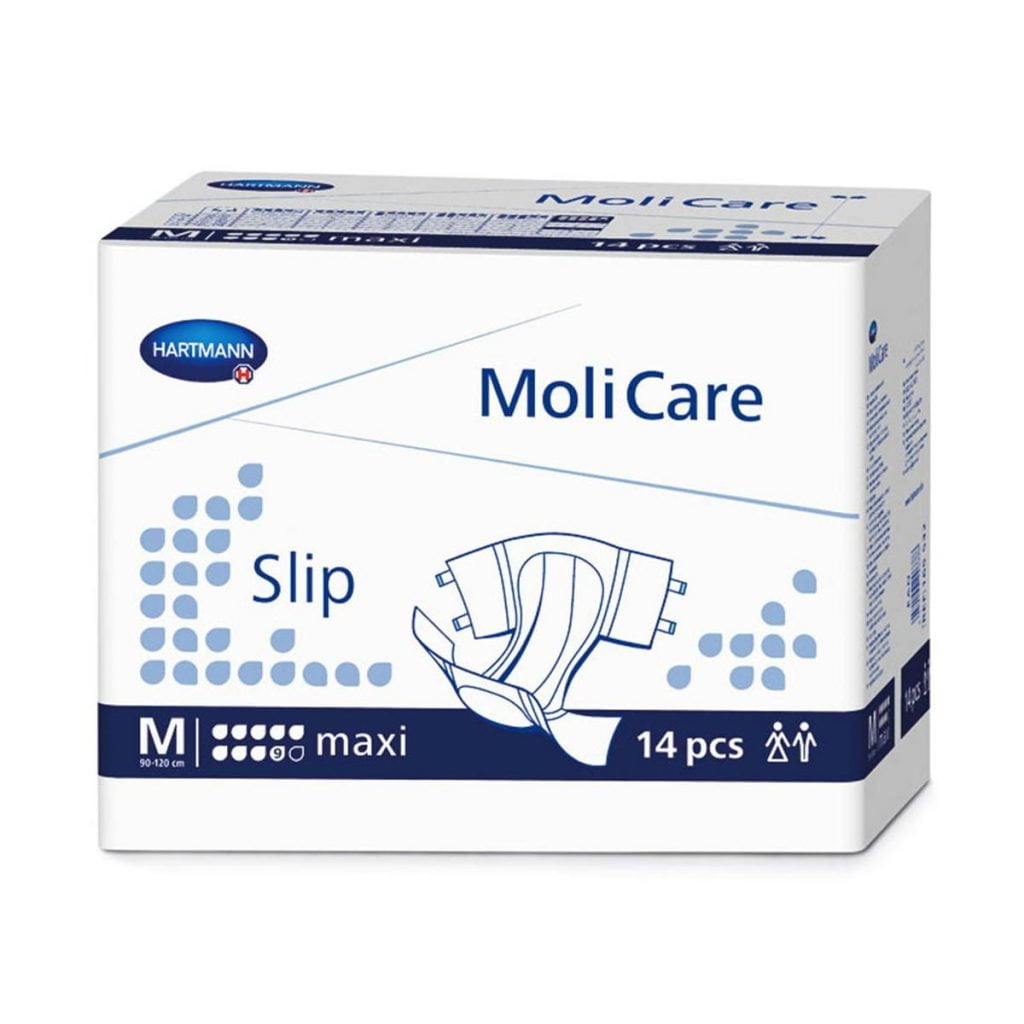 These bestselling MoliCare Slip Maxi Briefs are designed with comfort-stretch poly backing for excellent leakage protection. The high interior leak barriers and high liquid capacity make these adult diapers ideal for heavy incontinence, bowel incontinence as well as overnight use. Popular for their exceptional absorbency and superior incontinence protection, the MoliCare Slip Briefs are also designed with wide leg openings to offer better comfort for users.
Replaces the MoliCare Super Plus, Medium/Large (PHT169670)
Size: Medium
Waist Size Range: 27″-47″
Absorbency: 9 – Super Heavy
Brand: Medline – Hartmann
Latex Free: Yes
Material: Poly backing
Odor Control Product: Yes
Packaging: Retail Bags
Reusable or Disposable: Disposable
Wetness Indicator: Smear and Disappear
Quantity: 56 Each / Case
---
ADULT DISPOSABLE DIAPERS / DISPOSABLE BRIEFS
---
Adult disposable diapers are a reliable, convenient way of managing incontinence. As implied by their name, disposable briefs are used once and thrown away once soiled. Another, less-known benefit is that disposable briefs for adults offer a level of absorbency unparalleled in any of their reusable counterparts.
Reusable diapers for adults are more budget-friendly, fit and feel more like regular underwear, and are significantly more environment friendly. This makes them a great option for some people, especially active individuals with mild incontinence who care about reducing waste.
However, for many adults with incontinence, all the benefits of reusable adult diapers is outweighed by the technology advancements and convenience presented by disposable briefs for adults. With time, adult disposable nappies have been advanced to the point where they offer significantly improved absorbency, leak protection, moisture wicking to ensure skin dryness, odor control and breathability.
Absorbency
While adult cloth diapers may work well for individuals with mild or infrequent incontinence problems, the absorbency of these diapers cannot be compared to the superior liquid capacity of disposable briefs.
To demonstrate, AvaCare Medical found the most absorbent reusable diaper on the market, a bulky washable diaper from Rearz, which boasts eight absorption layers and a liquid capacity of 15 oz. Some sources even claim that the Rearz nighttime diapers can retain as much as 6 cups (48 oz.) of liquid, although this has not been verified.
In contrast, the Tranquility All-Through-the-Night Adult Briefs, a popular overnight disposable brief, is known to offer up to 34 ounces of liquid capacity. Other, more absorbent disposable diapers have a whopping 12 cups (94 oz.) or more of absorbency! Finally, the Abena series Abri-Form L4 can retain a staggering 135 ounces or nearly 17 cups of urine.
The difference is clear: when it comes to liquid retention, reusable briefs simply cannot compare to the technology of disposable briefs.
You might also like
Best price
Best price
Mountainside Medical Equipment.
Best price
Mountainside Medical Equipment.
Mountainside Medical Equipment.
Mountainside Medical Equipment.
Best price
Mountainside Medical Equipment.
Best price
Mountainside Medical Equipment.
---

MoliCare Slip Maxi Briefs – For excellent leakage protection