Medline Urinary Drainage Bag -useful for patients with urinary retention


This urine collection bag allows urine to flow from the bladder into the catheter, and then the urine from the catheter is emptied into the urine bag. Medline catheter bag has an anti-reflux valve that prevents urine backflow in the tubing and makes it safe to use during nighttime. The heavy-duty hanger helps in hanging the urine bag safely. It is useful for patients with urinary retention, incontinence, post-surgical recovery, etc.
Hits: 6
Medline Urinary Drainage Bag with Anti-Reflux Tower is designed for patients who suffer from incontinence problems
Medline Urinary Drainage Bag With Anti Reflux Tower
Brand:MEDLINE INDUSTRIES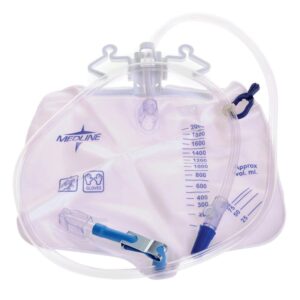 Benefits of Medline Urinary Drainage Bag
Minimizes backflow
Increases patient safety
50″ long tube
Includes reinforced hanger with built-in anti-kink drain tube guide and adjustable bed sheet clam
Designed to keep the user comfortable and stress-free throughout the night
Product Info:
Medline Urinary Drain Bags With Anti Reflux Tower Features
How to use Medline Catheter Bags?
How to empty this Bladder Bag?
Frequently Asked Questions
1. What is the use of an anti-reflux tower in urine bags?
The Antireflux tower in the catheter urine bag improves urine flow and provides reflux control. It prevents urine backflow into the tube.
2. How often one should change the urine drainage bag?
The Medline urinary drainage bag should be changed whenever you disconnect the drainage bag from the catheter.
If the urine bag is damaged, leaking, discolored, or a bad odor remains after cleaning the bag.
3. What are the uses of Medline Catheter Bags?
They are designed as urine collection bags and are mostly used for incontinence patients. This bag is attached to the catheter that is placed inside your bladder.
Click here for more FAQ's of Medline Urinary Drain Bag With Anti Reflux Tower
Instructions to use Medline Drain Bag and Urine Meter
Note:
 The drainage bag should last approximately one month when switched daily. Discard and replace bags earlier if they become discolored, brittle, or even smell after cleaning.
YOU MAY ALSO LIKE
---

Medline Urinary Drainage Bag -useful for patients with urinary retention