Hits: 1
Item#: NO330B Brand: Nova Ortho-Med
---
---
---
Product Information
Nova-Ortho Lightweight Transport Chair with 12″ Rear Wheel 40-1/2″ H x 23-1/2″ W x 28-4/5″ D, Blue, 19-1/2″ H x 20-1/2″ W Seat Dimension, 300 lb Weight Capacity

The Lightweight Transport Chair 19″ has a lightweight aluminum frame and padded upholstery. It is foldable and has a quick release fold-down back, as well as padded, fixed full-length arms for added comfort. This transport chair has locking rear wheels and includes hand brakes for added safety and control.
Hand Brakes.
Aluminum footrests (removable and swing away).
Non-skid footplates and heel loops.
Seatbelt.
12″ Rear Wheels, 8″ Front Wheels.
Lightweight Transport Chair
12″ Rear Wheel
Blue
1 Each / Each
Brand Nova Ortho-Med
Packaging 1 Each / Each
Weight 2.0625 LB
Shipping Dimensions 11.05 X 27 X 34.25 Inches
UPC 652308330206
---
TRANSPORT WHEELCHAIR / PORTABLE WHEELCHAIR
---
A transport chair is an economical and lightweight wheelchair designed for short distance use with the help of a caregiver. A transport wheelchair, also known as a companion chair, is constructed from materials that are more lightweight, and yet is still less expensive than standard lightweight wheelchairs.
What Is a Transport Wheelchair?
The average attendant chair weighs between 15 to 20 pounds and folds in seconds, making transport and storage very easy. The more manageable weight of these chairs also makes them easy to maneuver, and their compact frames fit into smaller spaces for additional convenience. Whereas a manual wheelchair is heavier and more bulky.
Most transport chairs have a weight capacity of 250 to 300 pounds. For heavier weight needs, look for a bariatric or heavy-duty transport chair, which can support up to 450 pounds. Best used for light or short-term purposes such as doctor's visits, shopping trips, and occasional travel, transport wheelchairs are great to have, even if you already have a heavier, permanent wheelchair.
How to Choose the Right Transport Wheelchair
One's choice of a transit wheelchair can depend greatly on a number of factors. Needs like the required weight capacity can influence the decision, but often it is not the only factor. A person needs to consider many other points when choosing the proper portable wheelchair for their transport. Some of these are:
---
Products related to this item
Best price
Best price
Best price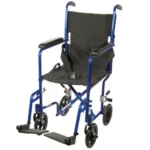 $ 219.00
$ 249.99 Current price
Mountainside Medical Equipment.
Best price
Mountainside Medical Equipment.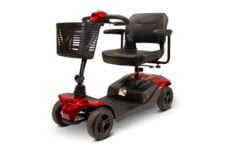 ---

Lightweight Transport Chair-Hand brakes for added safety and control.