Hits: 0
---
Dual Pad Knee Walker
Item#: 796
---
Have a question about this product?Ask us
---
Auto Re-Order & Save! More details
---
PRODUCT INFORMATION
For those experiencing pain or discomfort following foot surgery breaks sprains or ulcers the Dual Pad Steerable Knee Walker with Basket from Drive is a simple comfortable durable and pain-free crutch alternative. Unlike other knee walkers that offer only forward-facing front wheels Drive's Steerable Knee Walker features a fully maneuverable pair of front wheels for superior ease of use.
Plus the new two-piece leg pad provides superior user comfort. Tool-free height and left/right leg adjustments let users tailor the Knee Walker to their specific needs. The unit's 8″ wheels make it ideal for indoor and outdoor use and the deluxe dual braking system helps maximize safety. The Dual Pad Steerable Knee Walker with Basket provides quicker mobility and enhanced safety and stability over crutches allowing you to better manage pain and recover more quickly.
Knee walker can be steered for increased maneuverability
Ideal for individuals recovering from foot surgery, breaks, sprains, amputation, and ulcers of the foot
New, two-piece padded leg pad provides comfort
Actual Product Weight:22 lbs
Handle Height (Max):40″
Handle Height (Min):31″
Overall Product Height:31″
Overall Product Length:30″
Overall Product Width:16″
Pad Height:16.5″-20.5″
Pad Length:15″
Pad Width:7″
Primary Product Color:Silver
Primary Product Material:Steel
Product Weight Capacity:300 lbs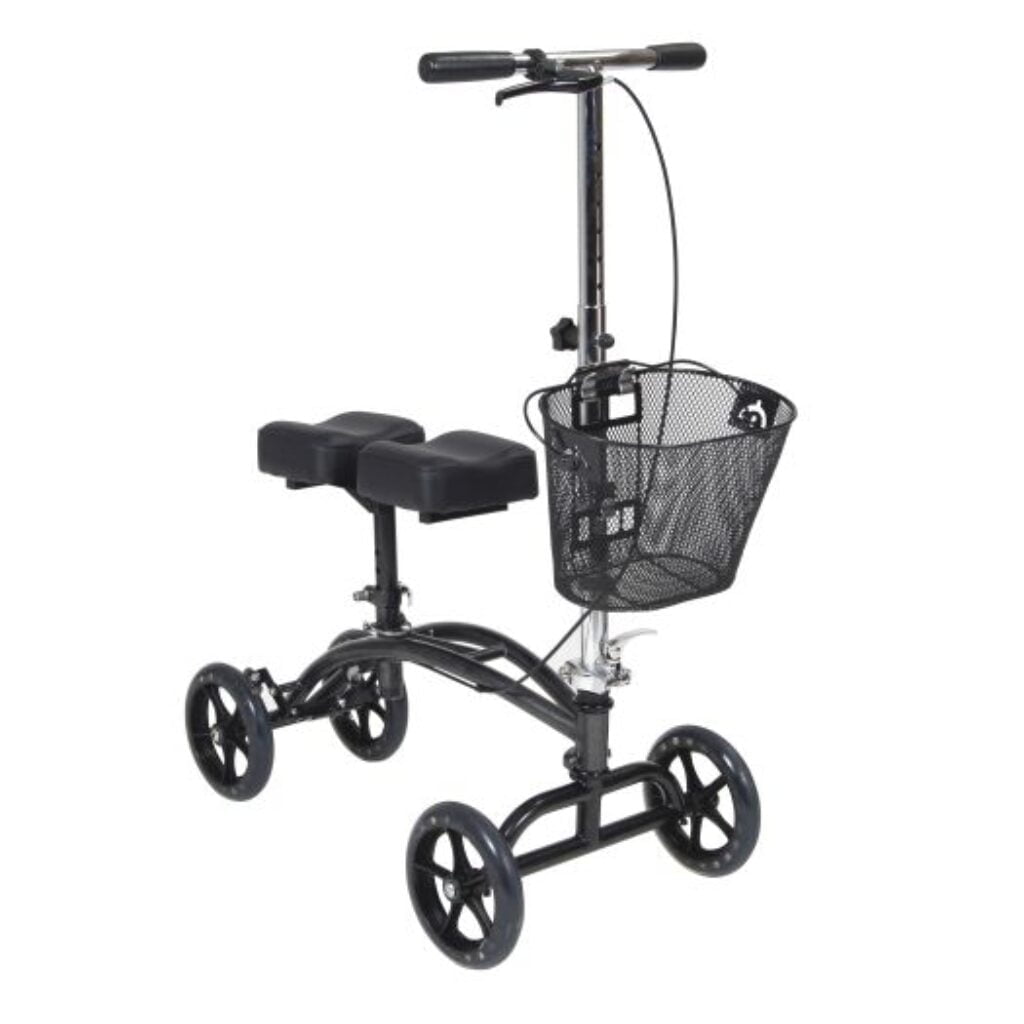 ---
KNEE SCOOTER / KNEE WALKER
A knee scooter, or knee walker, is a great walking aid for those who have limited weight bearing capability in one leg. Knee scooters serve as a convenient and contemporary crutch alternative and are equipped with a platform to support the weak or injured knee for easier mobility. Knee walker scooters are often preferred because of their increased stability over crutches, as well as their ease of use, making it easier and quicker for users to get around despite their limitations.
Best price
Knee walkers are designed to support users with either a left or right below-the-knee injury or foot ulcer. With three or four wheel options, the platform walker will allow you to get moving despite the limitations of injury or disability.
When considering your leg scooter options, keep in mind that some varieties come standard with a storage bag or basket and/or a cup holder for convenient, hands-free transportation of personal items and drinks. You can also choose a frame color to suit your style, as well as the brake style that you feel most comfortable with – either single, one-handed braking or a dual-braking system that allows for quicker stopping.
If you will be using the knee scooter over uneven surfaces such as outdoor terrain, look out for larger casters (such as 8") to ensure a smooth, comfortable ride wherever you go.
Knee rollers can be adjusted to the ideal height for the user, so be sure to adjust properly before use to avoid injury or pain.
At AvaCare Medical, all knee walkers qualify for free shipping, so place your order today – we'll have it delivered by tomorrow, at no extra cost to you! If you have any questions about knee scooters for sale or any other items, give us a call today at 1-877-813-7799 or email us at [email protected] – our professional caregivers are always here to help you!
---
---

Knee Walker – Ideal for individuals recovering from foot surgery