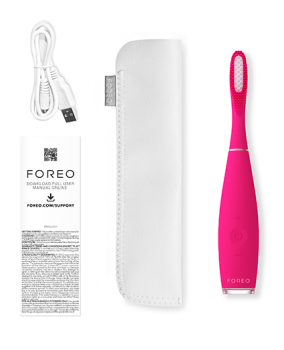 ISSA™ 3 – Designed with a unique hybrid brush head

Introducing the most hygienic way to brush. Designed with a unique hybrid brush head, made of medical-grade silicone and PBT polymer bristles. It's bacteria-resistant, tough on plaque, and gentle on gums. Powered by Sonic Pulse technology, it offers 16 intensity levels for a fully personalized brushing experience. Use with a natural manual gesture, get electric toothbrush results
Hits: 4
---
ISSA™ 3
4-in-1 oral care for teeth, gums, cheeks & tongue.
---
The healthiest way to brush your teeth.
ISSATM 3 is the world's first silicone sonic toothbrush – making it the biggest advance in oral care in 70 years. Designed with a unique hybrid brush head, made of medical-grade silicone and PBT polymer bristles. Up to 10,000x more hygienic than regular nylon toothbrushes.
Unlike other electric toothbrushes on the market, ISSATM 3 allows you to use a natural manual gesture while experiencing electric toothbrush results. Powered by Sonic Pulse technology, it offers 16 intensity levels for a fully personalized brushing experience. And it lasts for a whopping 365 days per charge.
Up to 10,000x more hygienic than regular nylon toothbrushes.
Clinically proven to improve overall oral hygiene by 140%. And 100% of users report whiter, brighter teeth and a fresher mouth.
Clinically proven to reduce gingivitis, and remove 30% more plaque than a regular manual toothbrush.
100% of users report that ISSA™ 3 is non-abrasive on teeth, and that their gums look healthier and don't feel irritated.
Lasts up to 365 days per single USB charge for convenience. Travel-friendly, with travel lock and pouch.
Designed to work effectively with the natural manual brushing gesture you have used your whole life, not replace it with an entirely different movement.
ISSA™ 3
USB charging cable
Device stand
Quick start guide
General manual
2-years warranty
---
How To Use
Simple & Easy
STEP 1
Apply toothpaste
Use your regular toothpaste and turn your ISSATM on. Press the plus and minus buttons to adjust the intensity to your preferences.
STEP 2
Brush
Brush your teeth in the same way you would with a manual toothbrush for 2 minutes. Your ISSATM will prompt you to brush a new quadrant of the mouth every 30 seconds.
STEP 3
Tongue & cheeks
For a full-mouth clean, turn your brush around and use the back of the brush head to gently scrub the tongue and cheeks.
STEP 4
Rinse
Rinse your mouth and your ISSATM with water.
---
YOU MIGHT ALSO LIKE
Best price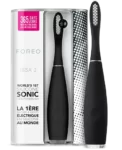 Best price
Mountainside Medical Equipment.
---

ISSA™ 3 – Designed with a unique hybrid brush head