Hits: 7
The Breather Respiratory Muscle Training Device is an Inspiratory/Expiratory Respiratory Muscle Training device. The Breather activates and strengthens users muscles for breathing, speech and swallow.
CONTENT:
The Breather Respiratory Muscle Training Device
Brand/Manufacturer: PN MEDICAL
The Breather Respiratory Muscle Training Device – Introduction
The Breather Respiratory Muscle Training Device Features
Fudamental Protocols
The Breather Device Strengthens

Inspiratory muscles: diaphragm, external intercostals, accessory muscles of neck
Expiratory muscles: internal intercostals, abdominals

Promotes diaphragmatic breathing
Generates improved airflow through vocal folds
Decreases shortness of breath
Improves blood flow to resting and exercising limbs
Helps in movement of hyolaryngeal complex
Improves respiratory support for safe swallow function
Improves protective cough and assists in airway clearance
Adjustable and independent inspiratory and expiratory pressure settings
Large, easy to read dial settings
Mouthpiece engineered to provide superior mouth seal
Ergonomic body shape for easy hand grip
How does the Breather Respiratory Trainer Work?
Breather device combines inspiratory and expiratory muscle training, with demonstrated efficacy in improving speech and swallowing in patients with neuromuscular disease such as Parkinsons. Furthermore, RMT in athletes and healthy individuals using The Breather led to improved respiratory functions, heart rate, peripheral muscle strength and exercise performance.
When to use PN Medical Breather?
This course is for people experiencing abnormal respiratory and speech functions impacting their daily lives. Some of these include:
Copd
Stroke
Asthma
Congenstive Heart Failure
Parkinsons
Muscular Dystrophy
Multiple Sclerosis
Myasthenia Gravis
Vocal Fold Pathalogies
Ventilator / Trach Weaning
Dysphagia
Spinal Cord Injury
Sleep Apnea
Hypertension
Preventative and recovery aid for Covid-19
Who Can Use Breather Exerciser?
Athletes
Musicians
Singers
Healthy Living
Speech Patients
Pulmonary Patients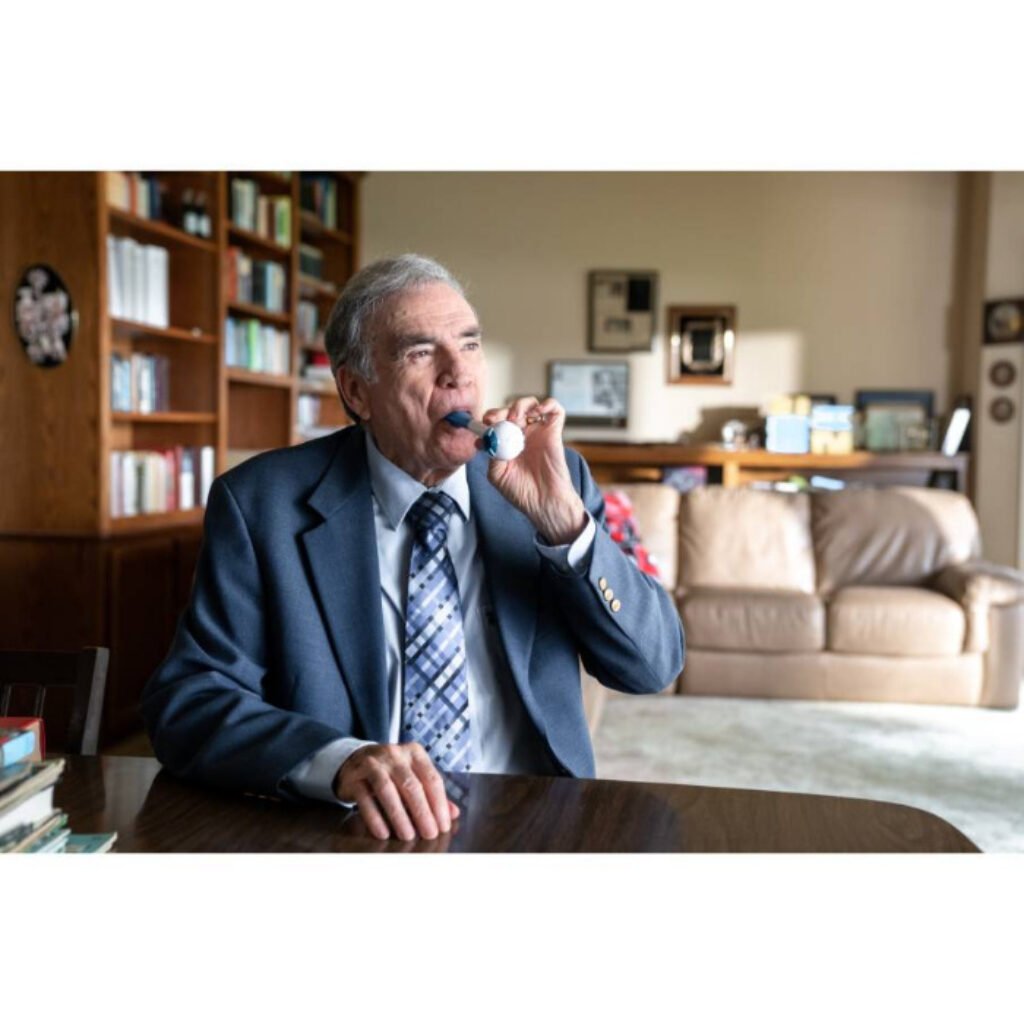 How to use The Breather Respiratory Muscle Training Device
What to Buy With Respiratory Training Device?
How To Use The Breather Device?
Breather Respiratory Trainer Specification
Important Tips For Using The Breather
Breather will be exposed to saliva during use; try to clean it on a daily basis
The blue dial diaphragms may stick from moisture build up after cleaning or after use. Set both dials to 1, then inhale and exhale sharply to release the moisture seal
Do not put The Breather in the dishwasher High heat cycle may effect the blue dial diaphragms
Breather Respiratory Muscle Training Device user manuals
YOU MAY ALSO LIKE
---

Generates improved airflow through vocal folds