Hits: 2
Item#: 49102700
---
Have a question about this product?Ask us
---
Auto Re-Order & Save! More details
---
PRODUCT INFORMATION
Florajen3 is a unique blend of three probiotic cultures and is highly effective for restoring and maintaining gastrointestinal health and supporting the immune system
It is also beneficial to vaginal flora
15 Billion live cultures per capsule
Sell UOM:BT
Manufacturer Name:American Lifeline
Manufacturer Number:73942344048
Application:Probiotic Dietary Supplement
Brand or Series:Florajen3®
Width:2
Height:3.5
Depth:3.5
Dimension UOM:IC
Weight:.1
Weight UOM:LB
Active Ingredients: Lactobacillus Acidophilus
Dosage Form:Capsule
Quantity Per Sell:1
UPC:0739423440482
Volume:30 per Bottle
---
ANTI NAUSEA MEDICINE / LACTAID PILLS / FAST ACTING LAXATIVE & MORE
Welcome to your one-stop digestive health shop where you can find anti nausea medication, lactaid pills, fast acting laxatives and much more! We carry a full line of top brands and generic forms of common medications including famotidine 20mg, acidophilus probiotic and loperamide hydrochloride.
Best seller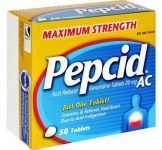 Anti Nausea Medicine
Use powerful anti nausea medicines to prevent uncomfortable feelings of nausea. Anti nausea medicines are available in several forms; there are motion sickness pills, nausea tablets, and motion sickness bands.
What Does Anti Nausea Medicine Do?
Anti nausea medicines offer nausea relief in two different ways: They either cause the stomach to transfer food to the bowel at a faster rate, or they prevent the receptors in the gut from sending a message of nausea to the brain.
Anti nausea medicines, such as nausea pills, are most commonly used for relieving an upset stomach as well as nausea due to chemotherapy, pregnancy-related nausea, and motion sickness.
How Do Motion Sickness Bands Work?
A motion sickness bracelet is a wristband that relieves nausea. There is a plastic stud-shaped piece on the inner side of the bracelet which stimulates the P6 acupressure points, and, by doing so, relieves nausea.
Motion sickness bands can be used for nausea relief from many conditions, including motion sickness, morning sickness, seasickness, and other conditions.
Quality motion sickness bracelets, such as the popular Sea Bands or the PSI Health Solutions Acupressure Wrist Band, look stylish, can be adjusted, and are reusable and latex-free.
---
YOU MAY ALSO LIKE
---
---

Florajen3 Probiotic Dietary Supplement