Stay clean and sanitary during clean-ups, chores and more with our selection of single use and disposable gloves, including popular options such as powder-free, non-sterile, nitrile and latex gloves. There are many types of disposable gloves available so you can choose the type that works best for your needs
Shop our disposable gloves
By category
---
---
DISPOSABLE GLOVES: LATEX, VINYL AND NITRILE GLOVES FOR MEDICAL USE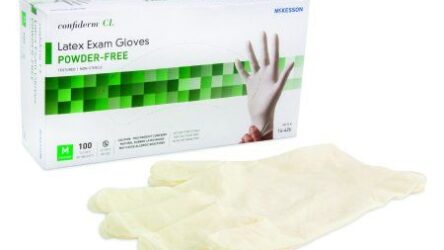 Item#: 41461310 Description Exam Glove McKesson Confiderm® NonSterile Ivory Powder Free Latex Ambidextrous Textured Fingertips Not Chemo …
Gloves
---
About disposable gloves
Powdered vs. Powder-Free Gloves
Besides the material disposable gloves are made from, it is also important to consider powdered versus powder-free gloves. Powdered gloves help you get to work quickly due to their powdered insides which make them easy to slip on and off. More sensitive individuals, however, prefer non-powdered gloves, which are also mess-free, leaving none of the residue powdered gloves leave behind. Powder-free disposable gloves often offer better sterility and are used primarily in the medical field since they help to prevent infections and allergic reactions.
Nitrile vs. Latex
Of all disposable gloves, latex gloves provide the highest level of comfort, flexibility and more. Latex rubber gloves provide excellent protection against bacteria and viruses. Because of their high tactile sensitivity, these gloves are preferred for precise or delicate work such as surgery.
If your skin is latex sensitive, however, latex-free gloves are for you. Of the different synthetic glove types available, gloves made of nitrile are often preferred, since disposable nitrile gloves provide comparable comfort and protection to that of latex gloves. Nitrile gloves also provide a high level of protection, with durable, puncture-resistant material that protects users from chemicals and viruses.
Another non-latex gloves option is vinyl plastic gloves, which are generally cheaper than their nitrile counterparts and offer a lower level of protection. Vinyl gloves are ideal for those who prefer a cost-efficient synthetic glove that is comfortable and offers protection against chemicals, such as housekeepers, gardeners, painters and mechanics. Read more
---
Search for more products
---