Hits: 4
Item#: 14641310
---
Have a question about this product?Ask us
---
Auto Re-Order & Save! More details
---
PRODUCT INFORMATION
Exam Glove McKesson Confiderm® 3.0 NonSterile Blue Powder Free Nitrile Ambidextrous Textured Fingertips Not Chemo Approved Medium
Nonsterile
Ambidextrous
Single use only
Thin with high tactile sensitivity
High elasticity
Improved conformability provides superior fit and extended wear comfort
Dark blue color for easy identification
Packaged 250 gloves per box to save space and reduce waste
Not made with natural rubber latex
250 Per Box
 Incontinence Buying Guide »
 Medical Gloves Buying Guide »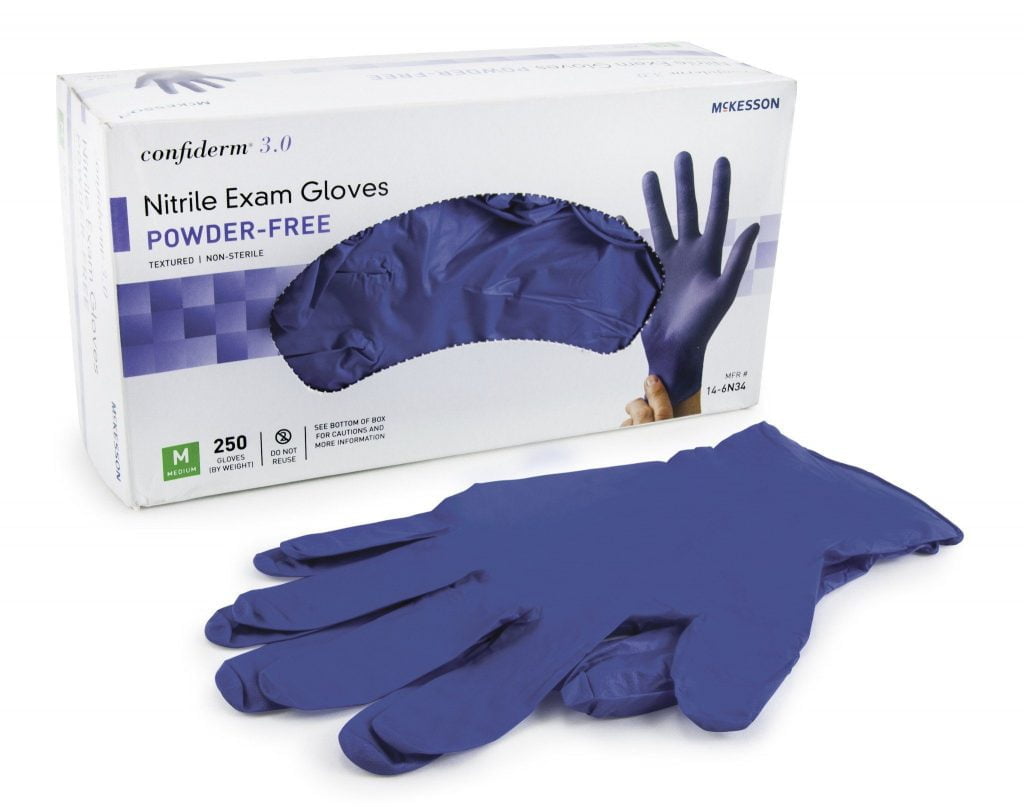 Sell UOM: CS
Manufacturer Name: McKesson Brand
Manufacturer Number: 14-6N34
Application: Exam Glove
Brand or Series: McKesson Confiderm® 3.0
Read more
---
NITRILE EXAM GLOVES / NON-LATEX GLOVES
---
Nitrile gloves are a popular option for individuals looking for non latex gloves. With nitrile exam gloves, professionals can treat patients properly without compromising on cleanliness. Nitrile gloves are known to be on the more costly side of disposable gloves, however this cost is well justified, as they also offer a very high level of protection, comfort, durability and more.
There are many kinds of disposable nitrile gloves; read through this guide to discover the differences and decide which type is best for your needs. But first, let's discuss the basics about nitrile exam gloves.
What are Nitrile Gloves Made of?
Disposable nitrile gloves are comprised of Nitrile Butadiene Rubber, a fuel- and oil-resistant, synthetic rubber material. Nitrile is an extremely durable, puncture-resistant rubber that offers protection from chemicals and viruses.
Is Nitrile Latex?
No. While both latex and nitrile gloves contain rubber, nitrile is a synthetic form of rubber while latex is a natural rubber.
Are Nitrile Gloves Latex Free?
Nitrile exam gloves are usually latex-free, but not always. Check the list of ingredients to confirm that the nitrile gloves you are looking at are latex-free. 
Since nitrile gloves can be, and are usually, latex-free, they are therefore a common choice of non latex gloves among medical professionals with latex allergies.
Up to 17% of healthcare professionals today are reported to have latex allergies. Medical professionals often develop this allergy after repeated use of latex products. Latex free gloves such as nitrile exam gloves are very popular among these individuals. In fact, in an article for Infection Control Today, Kathy Nix states that, "Nitrile is the preferred synthetic option in exam gloves because the material it is made out of is more durable, it has more strength, and it is more resistant to chemicals (2006)."
---

Confiderm 3.0 Nitrile Exam Glove Medium – Provides superior fit