Hits: 42
---
Maximize bathroom safety and customize your bathroom to suit your needs with bath aids such as a commode, grab bars or a shower for elderly or disabled individuals. For increased toilet and bath safety as well as improved comfort, you may want to install a raised toilet seat and a handheld shower head.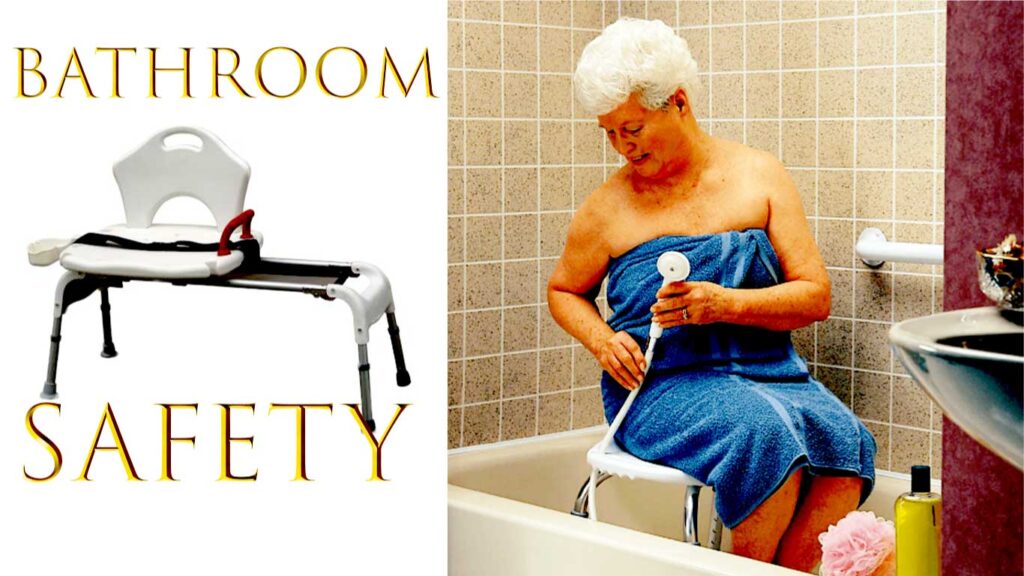 Other important bathroom safety equipment to consider include a transfer bench and bath lift. At AvaCare Medical, we carry all the bathroom assistive devices and safety products you need to keep elderly and disabled individuals safe and secure while using the bathroom.
---
Shop by Category
---
About Bathroom Safety
Why Choose Bathroom Safety Products?
Seniors and handicapped individuals are at an extremely high risk of falling. Studies show that many senior deaths around the world are caused by slips, trips and falls. To avoid this, AvaCare Medical believes that showers should be safe for seniors and disabled people, because every single user should have the best options in terms of security and safety.
Some seniors like the idea of having a little bit of privacy as well as independence, and by choosing AvaCare Medical's products, you can actually have the best of both worlds, without compromising on either. Some of our products can actually help to increase mobility while in the shower or bathtub as well.
Shower Chairs
A shower seat allows you or your loved one to sit comfortably in the shower. Some shower seats provide back support and are equipped with handles to make it easier to get up. A rotating shower stool can be helpful for those who need the freedom of movement this product offers.
Commodes
Preserve your dignity with a bedside commode when it's difficult to reach the bathroom in time. For quick and easy clean-up and waste disposal, add a commode liner.
Choose a padded commode for enhanced comfort, a commode with drop arms for more security while getting on and off the commode, or a shower commode, which can be used in the shower. There are also several other types of commodes; check out our commode category for more details.
Raised Toilet Seats
Knee, muscle and joint problems can make it difficult or even painful to sit down on a typical toilet seat. A raised toilet seat can alleviate the pain as well as the inconvenience of the longer distance by ensuring that the knees are below the hips when seated.
Grab Bars
Shower grab bars provide safe support for climbing into and out of the tub. For those who have difficulty with balance, the bathroom can easily be made safer with the installation of a grab bar. Bathroom grab bars and toilet safety frames can also be very helpful when rising from a sitting position.
Also known as safety rails, these bars are generally comprised of durable high grade aluminum or steel. There are numerous options to choose from when it comes to purchasing grab rails, and some even have special handles that allow for a slip-proof capability which ensures your safety.
Tub Transfer Benches
For the injured or the elderly, climbing in and out of the tub can be a difficult and even dangerous activity. Transfer benches ease the transfer, as well as reduce the risk of falling. Instead of stepping over the wall of the tub, the user enters the shower by sliding across a transfer bench. These special shower benches are extremely helpful for those with limited mobility.
Bath Lift
If taking a long, relaxing bath seems out of reach because of mobility issues, try one of our bathtub lifts. Bath lifts provide bathtub assistance for elderly and disabled individuals; they restore your independence by allowing you to safely get in and out of the shower with the push of a button – no effort necessary!
Handheld Shower Heads
A handheld shower head makes showering safe and accessible for people with limited mobility. Handheld shower heads provide ideal pressure and quality, with additional flexibility to make it possible for independent showering while seated, and for caregivers to easily bathe their patients. It also makes it easier for those who want to retain their independence to still be able to bathe themselves safely and confidently.
---
Shop Bathroom Safety Products
Best price

---