Hits: 4
Item#: 48MG0400CA
---
Have a question about this product?Ask us
---
Auto Re-Order & Save! More details
---
PRODUCT INFORMATION
Attends® Guards for Men® Unisize, Super Absorbent Polymer, Latex-Free

Guards for Men® are anatomically designed for men with light incontinence – potentially as a result of prostate problems, cancer or surgery.
Unique, anatomical form-fitting shape for maximum containment.
Soft, cloth-like material for comfort and discretion.
Super absorbent beads quickly lock in fluids and help prevent odor.
Hold-in-place adhesive patch.
Excellent option for post surgery.
Attends Guard for Men
Sterile
Latex-free
 Incontinence Buying Guide »
 Underpads Buying Guide »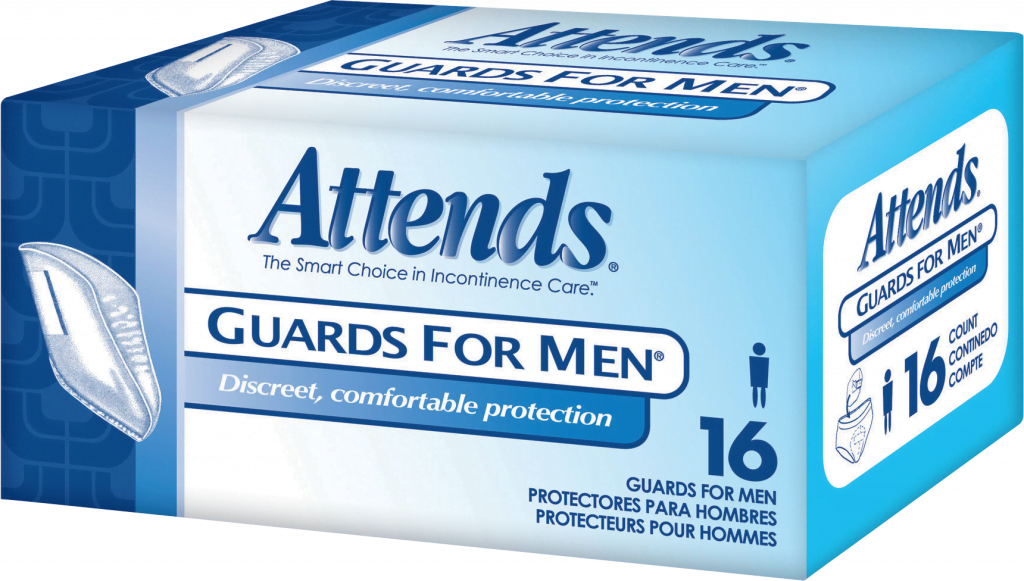 Packaging Case of 64
Weight 2.1875 LBS
Brand Attends
Shipping Dimensions 15.5 X 8.25 X 4.5 Inches
---
INCONTINENCE PADS FOR MEN / MEN'S UNDERWEAR LINERS FOR LEAKAGE
---
There are multiple solutions for active men with light incontinence, including pads designed for men. These male incontinence pads are worn inside normal underwear and are made anatomically to conform to the specific needs of men. Their use promotes dryness, comfort and leak protection.
How to Choose Male Incontinence Pads
As usual, the first step to choosing a wearable incontinence solution is to verify the level of absorbency that is needed. To begin, use the handy absorbency chart below to determine the level of incontinence you are dealing with.
Light

Light amount of urine or infrequent leaks
Moderate

Moderate amount of urine or continuous leakage

Heavy

Large amount of urine and/or fecal incontinence

Maximum / Overnight

Very large amount of urine and/or fecal incontinence

Next, determine your product needs as follows:
If you are dealing with light incontinence, a male incontinence shield will provide sufficient protection, certainly for daytime use. You may also want to consider a manhood pouch.
For moderate incontinence, a male guard will provide improved protection. Male incontinence pouches can also be used.
If you are experiencing heavy or maximum (total) incontinence but do not want to use a full pull up or diaper, you may want to try out the Abri-Man Special Incontinence Liner or a similar men's pad for leakage that is indicated for use by men who have heavy to total urine loss.
YOU MIGHT ALSO LIKE
---
---

Attends® Guards for Men® Unisize, Super Absorbent Polymer, Latex-Free