Hits: 0
Item#: 48ADPTHIN480
---
---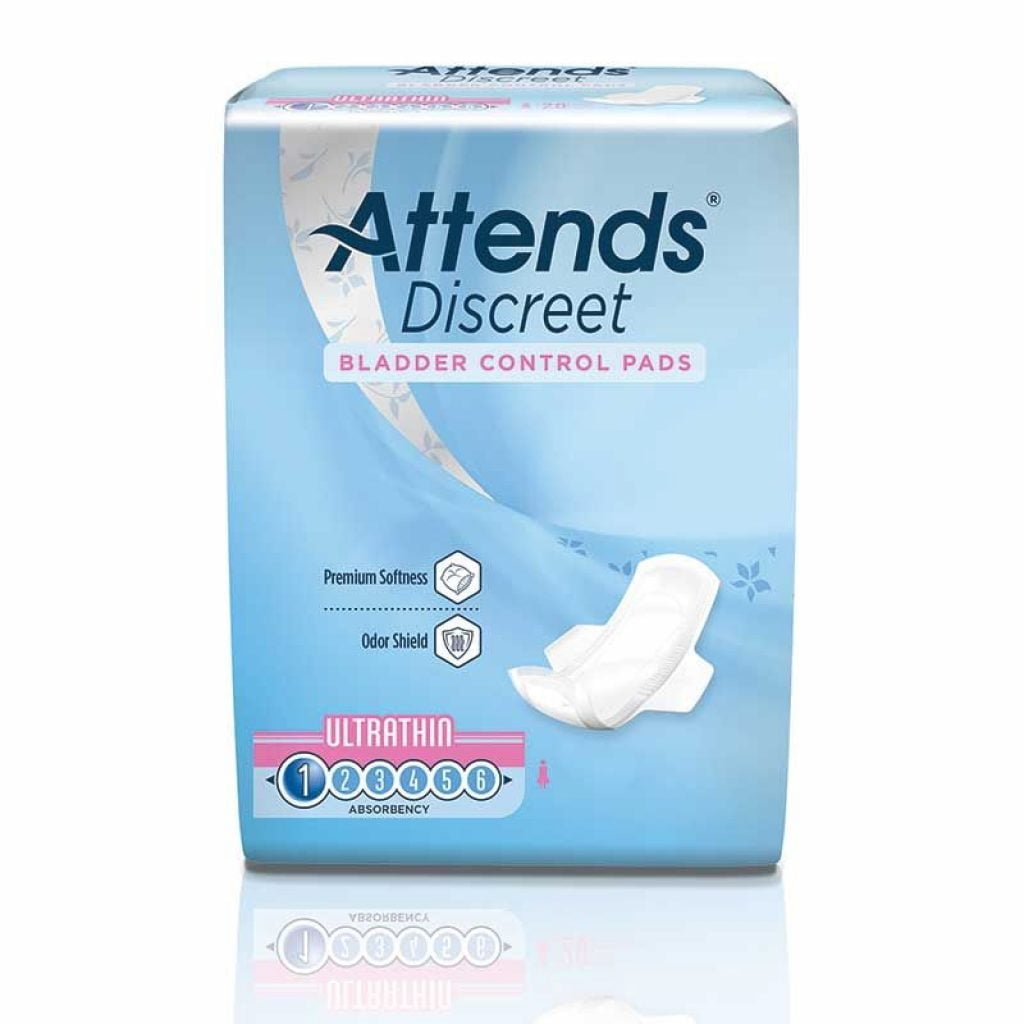 Quick Overview
---
Attends Discreet Ultrathin Pads
480 Each / Case
 Incontinence Buying Guide »
 Underpads Buying Guide »
Details
---
Brand Attends
Packaging 480 Each / Case
Weight 13.2 lb
Dimensions 11.22 X 9.65 X 8.26 Inches
---
INCONTINENCE PADS WITH WINGS / BLADDER PADS WITH WINGS
---
Incontinence pads with wings are more practical than those without wings. They let ladies go about life in a carefree, confident manner, without being held back by fear of embarrassment. Bladder pads with wings are designed to stay securely in place through every sneeze, jump, skip or jog. They enable individuals to stay active and on-the-move, unbound by incontinence.
Incontinence pads with wings are not as compact as those without, but that's not to say they're bulky. (They're not!) The wings allow the incontinence pad to stay put, so that leaks don't sneak out the sides and a faint outline of the pad doesn't ever become noticeable.
Bladder control pads with wings usually come individually packaged, for sanitary purposes, and so that you can store one in your purse just in case.
Bladder leakage pads with wings are available in several absorbency levels.
Incontinence Pads with Wings: Who They're For
Those looking for incontinence pads with wings are usually active individuals who don't feel like letting little leaks get in their way. If this sounds like you, you may want to try bladder with wings!
Incontinence pads with wings offer just the right amount of protection for light bladder leakage (LBL). They offer much more absorbency than period pads of comparable thickness. They absorb moisture and neutralize odors quickly and efficiently.
Why Choose Bladder Pads with Wings?
Like regular incontinence pads, bladder protection pads with wings are absorbent, discreet, and practical. The main reason to choose bladder pads with wings over standard ones is that besides featuring everything a regular incontinence pad offers, these also stay in place much better.
Browse the collection of quality incontinence pads with wings at AvaCare Medical! Find comfortable, compact incontinence pads that are so slim and non-obtrusive that you may forget you're even wearing them!
---
---

Attends Discreet Women's Ultra thin Pads, Case