Hits: 7
---
Attends Premier Brief Large, Case of 48
Item#: 42363100
Have a question about this product?Ask us
---
Auto Re-Order & Save! More details
---
PRODUCT INFORMATION
The Attends Premier range of products was designed to help you or those you care for manage heavy to severe urinary and/or fecal incontinence. Because Attends uses some of the softest and most absorbent materials available, Attends Premier will help you feel confident that you or your loved ones are protected during the day or night.
The high-rise, full-fit protection and ultra-plush design results in a product that fits comfortably in all the right areas. So go on the trip, walk on the beach, Have dinner with your friends and family, don't let a leaks stop you from being with the ones you love. Trust in Attends Premier to protect you during the moments that matter most.
100% Breathability helps improve comfort and helps promote healthy skin.
Our most absorbent brief ever, locks liquid away faster.
Leak protection for confident days and dignified nights
High Rise, Full-Fit Protection
Ultra-Plush Design
100% Satisfaction Guaranteed
Manufacturer #ALI-BR30
BrandAttends Premier
ManufacturerAttends Healthcare Products
Absorbent CapacityHeavy Absorbency
ApplicationIncontinent Brief
Backing MaterialCloth-Like Backing
ColorWhite
Fastener TypeRefastenable Tabs
GenderUnisex
Leg StyleElastic Gathers
SizeLarge
Sizing Range44 to 58 Inch Waist / Hip
StyleTab Closure
Topsheet MaterialNonwoven Cloth-Like Topsheet
TypeOvernight
UNSPSC Code53102303
UsageDisposable
UserAdult
---
YOU MAY ALSO LIKE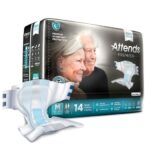 ---
---

100% Breathability helps improve comfort and helps promote healthy skin.